From The Vaults
16 April 2019
The 1919 Rugby World Cup Final...
THE KING'S CUP PLAY-OFF MATCH: TWICKENHAM WEDNESDAY 16TH APRIL 1919.
MOTHER COUNTRY 3 v NEW ZEALAND 9
A century ago, in this deciding clash for George V's King's Cup, the Inter-Services and Dominions Rugby Tournament post-World War One, could the Mother Country reverse their earlier defeat by New Zealand at Inverleith, or would the men from 12,000 miles away who had come to fight for that King and all 'his' countries maintain their edge and build on the winning reputation they and their countrymen had built over the previous fifteen years?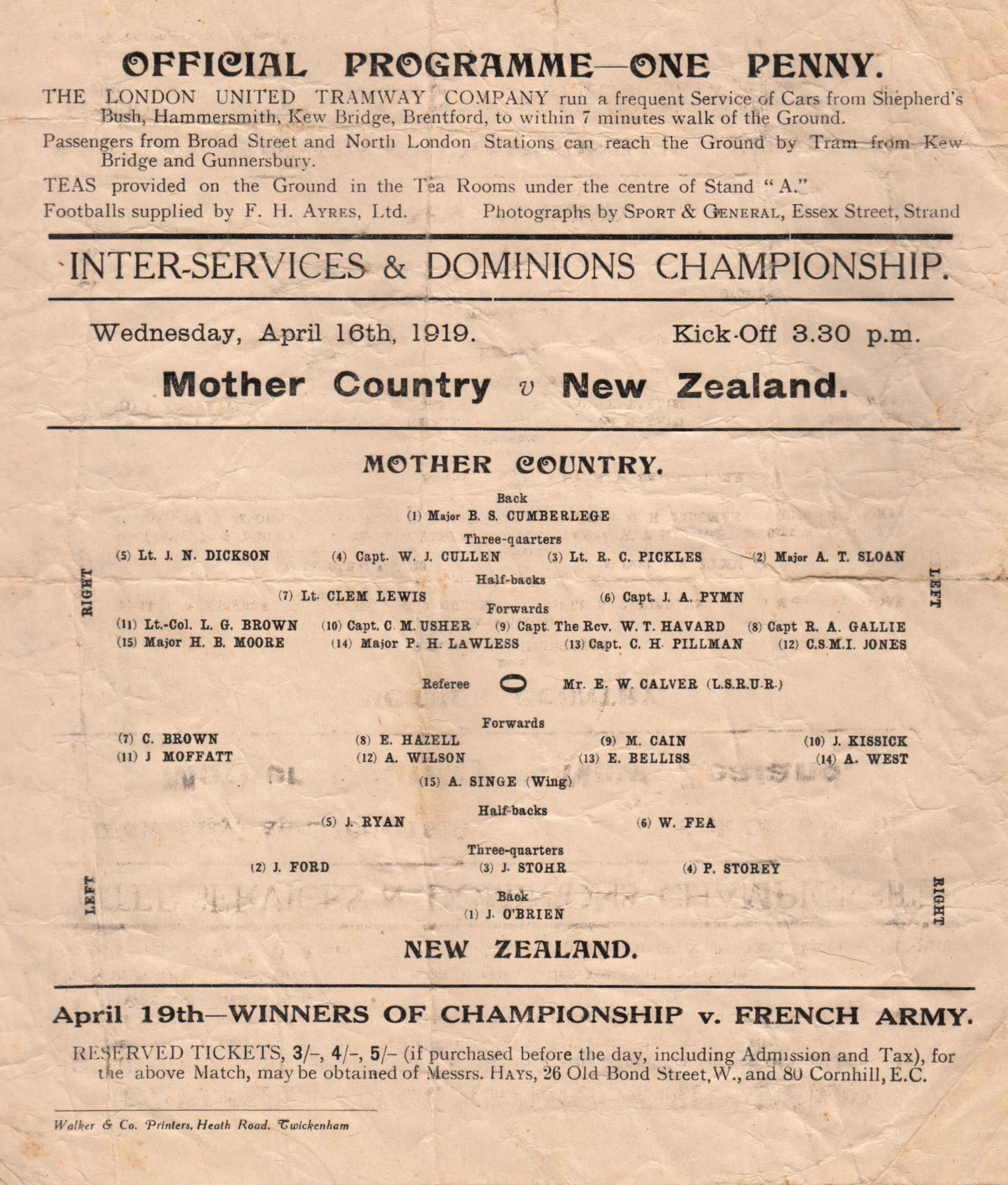 It seems rather fitting, if unusual, that there should have been a play-off planned after the 'league' process, as in an era before such competitions, a rather anti-climactic 'tie' or countback of points would have perhaps seemed more likely. Indeed, this report from an earlier game suggests that just such an alternative ending had been intended. Was it meant to be decided on points difference, with the result that the Mother Country would have won? At all events, it was known in plenty of time that a play-off was now planned, in a very exciting finale to a competition that appears to have moved along with close-to-military precision.
The table makes the point that the Mother Country had the best record overall, but in all fairness the All Blacks had prevailed in the head-to head-game. Now they had the chance to repeat that feat in a final showdown and showcase at the new headquarters of rugby: and repeat it they did.
| | | | |
| --- | --- | --- | --- |
| Mother Country | won 4 lost 1 | (81-27) | 8 pts |
| New Zealand | won 4 lost 1 | (58-17) | 8 pts |
| Australia | won 3 lost 2 | (58-23) | 6 pts |
| South Africa | won 2 lost 3 | (65-43) | 4 pts |
| RAF | won 2 lost 3 | (27-69) | 4 pts |
| Canada | won 0 lost 5 | (3-113) | 0 pts |
New Zealand won the play-off, and thus the King's Cup, in front of some 10,000 spectators who included the Prince of Wales and the Rt Hon. William F ('Bill') Massey, the Prime Minister of New Zealand, as well as many British and Dominion servicemen. Noticeably, but typically of the time, while the New Zealand side contained one officer and 14 others, the Mother Country fielded 14 officers plus CSM Charles Jones (pictured below). They made one late change as Wales international, Reverend Bill Havard, replaced the injured Joseph Brunton (pictured below) in the pack and for New Zealand, Jim Moffitt and Alf West made their debuts in the tournament. Both won their full international caps later with West, who became a full All Black in 1921, returning to GB in 1924 with Cliff Porter's 'Invincible' tourists.
Every New Zealander appeared at tip-top fitness, with their pack outstanding. Wingers Percy Storey and 'Jockey' Ford were the stars, with Ford looking the complete player and the 'find' of the year. Strangely, however, he was never to win a full international cap. New Zealand had most of the early ball, but both William Cullen and Allen Sloan had good runs in reply, then full back Barry Cumberlege kicked the Mother Country ahead with a penalty on 20 minutes. Before the interval, though, New Zealand, playing with the wind, levelled when centre Jack Stohr landed a penalty. 'Peter' Lawless of the Mother Country later wrote:
'...Playing against New Zealand at Twickenham in 1919, we went off against a terrific wind, blowing over the mound where the North Stand was later to raise its gaunt covering. We did well enough in the first half, and crossed over full of confidence, only a try to the bad. But we little knew how much energy we had expended against that hurricane, and in the end were soundly beaten...'
In the second half, New Zealand came on and on, denying the Mother Country any ball, then Ford tore down the left wing outpacing the defence for a try. Although Stohr could not convert, it gave his side a lead they were not to lose. It was pressure that led to the final score as loose forward Arthur Singe, a truly magnificent spoiler, went over from a close-range scrum. 'Moke' Belliss, 'Ranji' Wilson and Singe were the pick of a splendid New Zealand pack, making some of the home side look as if age (and the wind) had caught up with them.
Typically, Wilson (1), Singe (2) and Belliss (12) are all well to the fore in this shot from the earlier clash between NZ and Australia at Bradford
A New Zealand chronicler, Mr Thomson, commented: 'My old Otago Boys' High School fellow pupil, Billy Fea, was back after injury and distinguished himself by dictating the course of back play in our favour', while writing 20 years on, another New Zealander, W F Ingram, recalled how a friend present at Twickenham for the play-off, had recounted a story about their war-time Premier. Mr Massey was a genuine rugby fan and very keen for his country to walk tall. It appears that "Old Bill," as he was affectionately termed,
'…went into the New Zealand dressing-room at half-time, and wore a worried look. Things had not gone too good for the New Zealanders, and Mr. Massey approached one of the husky forwards and urged him to "do his best for New Zealand; the people back home look forward to success." There came an unexpected reply: "Leave 'em to us, Bill! Politics might be your game, but this is our picnic!" In the second spell the New Zealanders used steam-roller tactics and gave the clever English backs no chances. After the final whistle Mr. Massey once again visited the dressing-room, but this time he wore a triumphant smile. His friend, the husky forward, was taking a shower. Mr. Massey grasped his hand, shook it with great fervour and stood there completely oblivious of the fact that the shower was on and that he was being drenched!'
The Auckland Star commented: "The New Zealand forwards were as fresh as paint, but the Mother Country forwards were much the worse for wear and tear." William Cullen, capped the following year by Ireland, stood out as the best home player. Fly half Clem Lewis, though, did not look well and was then admitted to Queen Mary's Military Hospital Millbank with a high temperature and inflammation of the shin. By then, though, New Zealand had the victory, and were to raise both the King's Cup and, still further, their reputation in the rugby-playing world. The Services tourney had been a major success and provided an outstanding sequence of games, which had helped put rugby back on the big stage.
New Zealand - *J G O'Brien; +W A Ford, *L B Stohr, +P W Storey; *J Ryan (capt), +W R Fea; *C Brown; A P Singe, *E W Hasell, *N A Wilson, +E A Belliss, J Kissick, *M J Cain, +J E Moffitt, +A H West. Tries - Ford, Singe. Pen - Stohr. Mother Country - +B S Cumberlege; +J A N Dickson, +W J Cullen, +R C W Pickles, *+A T Sloan; *+J C M Lewis, *J A Pym; *+C M Usher, +Rev W T Havard, *C H Pillman, *+L G Brown (capt), +C W Jones, P H Lawless, *H B Moore, +R A Gallie. Pen - Cumberlege. Referee - Mr Carver (England).
About the Authors - Much of the above is taken from 'The King's Cup 1919: Rugby's First 'World Cup', by Howard Evans & Phil Atkinson, published in December 2015 by St David's Press and available from them, Amazon and other online outlets. Howard is a respected rugby writer, who was for many years a rugby correspondent for the South Wales Echo and the Western Mail; Phil is a retired headmaster and history teacher, President of Rhymney RFC and Editor of the Rugby Memorabilia Society's magazine, 'Touchlines'.