From The Vaults
27 March 2017
Rugby's Greatest Upsets Part 4 - France v New Zealand, 1999
With the advent of the Rugby World Cup in 1987 rugby union had found its greatest stage and greatest potential for upsets. The shift away from test-rugby allowed the relative minnows of the global game their shot at the big fish. But one of the greatest upsets in the tournament's history featured two international heavyweights.
Photo Credit: Getty
New Zealand go into most Rugby World Cups as favourites. They have occupied first place in the world rankings for longer than any other side and are the only nation in the world to hold a positive win record against every rival. 1999 was no different. Featuring the likes of Reuben Thorne, Taine Randall, Chris Cullen, Tana Umaga and the irrepressible Jonah Lomu on the wing, the All Blacks had crushed England and Scotland on their way to the semi-finals.
Photo Credit: Getty
France, for their part, had seen off Argentina on their way to the semis and had a strong side that included Abdelatif Benazzi, Christophe Laimaison and was led by Raphael Ibanez. Although hosted by Wales, both the tournament semi-finals would take place at Twickenham in front of a largely English crowd. New Zealand were strong favourites but France were well respected and a win for them would not have presented an upset great enough to make this list were it not for the manner in which it unfolded. A tightly contested first half was lit up by a super-human drive for the try line by Jonah Lomu that, coupled with a later penalty, gave New Zealand a 17-10 half-time lead. In a performance reminiscent of his semi-final demolition job on England four years earlier Lomu scored another thundering try early in the second half to push his side into a 2 4-10 lead.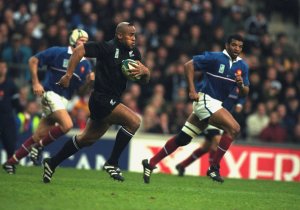 Photo Credit: Getty
At this stage the neutral observer, of which there were many in the largely English crowd, could have been forgiven for assuming that the game was as good as over. That, however, would be to seriously underestimate the spirit and resolve of the French side and so one of game's great upsets began to take shape. Two drop-goals, two penalties and a converted try from an energised fly-half Lamaison saw the French surge into the lead. Realising that the game was afoot, the watching Twickenham faithful threw their support behind the French. Stunned by the sudden turnaround the All Blacks appeared as casual observers at the scene of an unfolding catastrophe. A glut of New Zealand substitutions followed but it was les Bleus that scored again and then again! With 78 minutes gone France had scored 33 unanswered points and led by 43-24. The All Blacks finally rallied with a try but it was too late. The final score was 43-31 to France.
Photo Credit: Getty
---
Read Rugby's Greatest Upsets
Part 3 and