From The Vaults
05 August 2019
Who was Lewis Cobden Thomas?
Lewis Cobden Thomas was born on 6 August 1865 in Merthyr Tydfil, the fourth son and fifth of eleven children of Thomas Thomas, an ironmonger, and his wife Gwladys, nee Jones. He was given the name of the radical liberal MP, Richard Cobden, who had fiercely opposed the Corn Laws, campaigned for their abolition and for an improved system of education.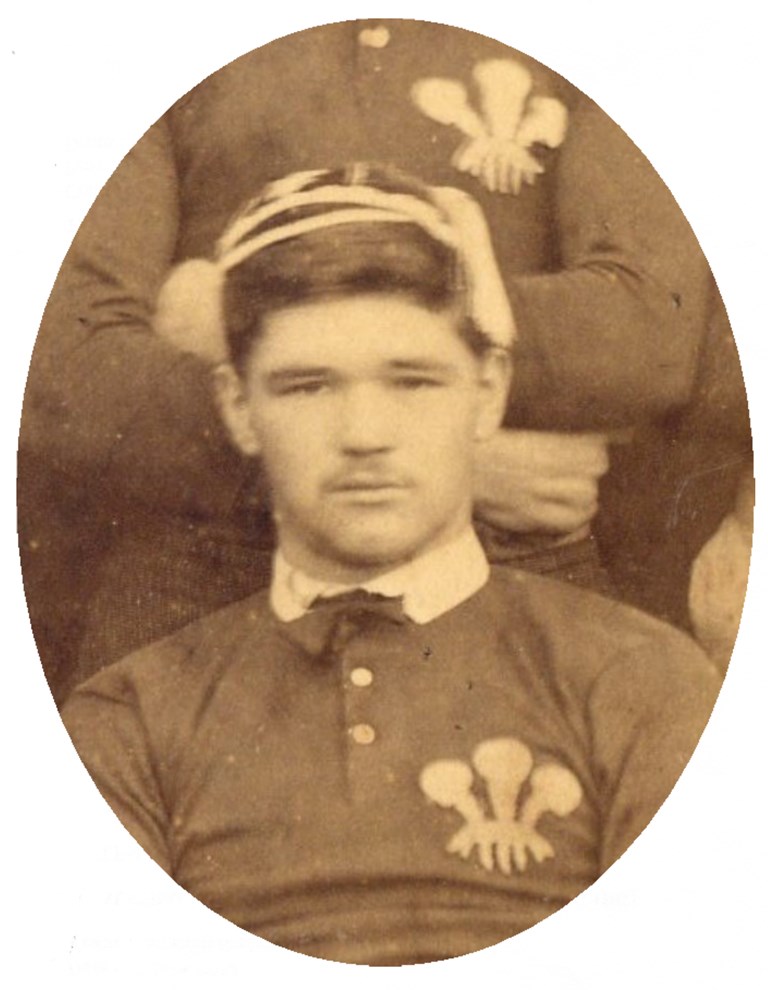 He was educated at Merthyr College, Queen's College Taunton, University College Aberystwyth and University College Cardiff where he obtained a 1st Division Certificate London Matriculation. A natural sportsman, he played rugby as a forward for Cardiff in 12 matches and scored 7 tries in the 1883-84 and 1884-85 seasons. He was described in the South Wales Daily News in December 1884 as one of the best forwards in Wales. He won his two international caps against England and Scotland in the two matches played by Wales in the 1885 Championship. In the match against England at St Helen's Swansea in front of a crowd of 5,000, in which the young Arthur Gould also won his 1st cap playing at full back, the first half was closely contested but the Wales team was well beaten in the second half by a strong English side who scored five tries to the two scored by Wales. His second and final appearance for Wales was in the scoreless draw against Scotland a week later on January 10th 1885 at Hamilton Crescent, Glasgow in front of 3,000 spectators. The South Wales Echo wrote:
"The Welshmen were lighter than their opponents, but nevertheless held their own well in the scrums. LC Thomas played splendidly and was admirably supported by AF Hill and R Gould"
He played for the University College Cardiff rugby team against Neath on 24 October 1885 during the 1885-86 season, but the profile of the university club was far inferior to that of the Cardiff team he had played for in the previous two seasons so the chance of adding to his tally of Welsh caps was slight. The South Wales Daily News commented on 2 November 1886:
"By the way, what has become of the South Wales College team? They have lately dropped altogether into the background. Surely this is not creditable to a club which has possessed such sterling players as HM Jordan, LC Thomas and AC Davies."
It is believed that a knee injury later in the 1885-86 season led to his premature retirement from the game as no further mention of him has been found in any of the Welsh papers in connection with his rugby career.
His rugby career was in effect only a distinguished interlude in a very full life. A strong swimmer he saved a man from drowning in the notoriously dangerous Blue Pool at Pontsarn in June 1887. This heroic act led to him being awarded The Royal Humane Society's Certificate in Vellum for which the citation read:
"Lewis Cobden Thomas is justly entitled to this Honorary Testimonial of this Society inscribed in Vellum which is hereby awarded to him for having on the 19th day of June 1887 gone to the rescue of Cornelius Allen who was in imminent danger of Drowning in Pwll Glas, Pontsarn, and whose life he gallantly saved."
He was articled as a solicitor to a firm in Merthyr and spent the last year of his articles in London with Schultz & Sons. Having qualified as a solicitor, he came to Neath in 1880 and joined in partnership with Samuel Thomas Evans practising in offices in St Thomas Chambers, Church Place. Evans left the partnership a year later to study for the bar and Lewis Thomas continued to practise on his own. He served on the Neath Borough Council from 1897 to 1903 and was Mayor of Neath in 1900-01, a memorable year in which he led the formal responses of the town to the death of Queen Victoria. He assisted in the formation of a mining company, The Thomas Merthyr Colliery Co Ltd, in 1906 set up by two of his brothers. He remained a Director of the company until 1911 and the company survived the vicissitudes of the industrial climate between the wars before being nationalised with the Coal Industry in 1946. Lewis Thomas devoted his main attention to his law firm for many years but his health was not good in the years after the war and he suffered from increasing deafness. He died in Neath on April 14th 1928 aged 63. Sources:
Cardiff Rugby Club 1876-1975 - DE Davies (Cardiff Athletic Club 1975)
Cardiff Rugby Football Club 1876-1908 - CS Arthur (Cardiff RFC 1908)
History of Welsh International Rugby - John Billot (Roman Way Books, Cardiff 1999)
Who's Who of Welsh International Players 2nd Edition - Pierce, Jenkins & Auty (Charlcombe Books 2018)
Newspapers: South Wales Daily News - South Wales Echo - Western Mail
About the Author - A professional musician and arts administrator, Richard Steele has had a life-long love of sport. He has been on the committee of the World Rugby Museum at Twickenham since 2005.