From The Vaults
22 July 2019
When the Crowd Stops Roaring by Neven MacEwan
Neven MacEwan played 20 times for New Zealand between 1956 and 1962. He helped defeat the British and Irish Lions three times during their 1959 tour of Australia and New Zealand and contributed to a 3-0 series whitewash of France in 1961. His international career came at a time when the All Blacks vied with South Africa for supremacy in the world game. The following extract is taken from Neven's recently published autobiography 'When the Crowd Stops Roaring'.
My First Test - 1956 In the second test against South Africa in Wellington we played with the wind in the first half and managed to get the first try of the match via Bill Gray, but we wasted a lot of effort. By half-time, we had only one score to our name. I remember Bill Clark, Don McIntosh and I exchanging a few frustrated glances as we kicked, kicked, kicked, and kicked some more. Tiny White and Bob Duff were fighting really well for the ball in the line-outs, but it was for nought. I started out well enough, but I soon found myself grappling with Johan Claassen; he was everywhere I didn't want him to be. Ron Jarden played the worst game of his esteemed All Black career. He missed touch kicks, crucial penalties, and conversions that he would usually have knocked over in his sleep. I also have to spare a thought for our halfback and captain Pat Vincent. South Africa was so good at disrupting our line, and surrounding our rucks and mauls that when we won possession we couldn't give Pat and Mick Bremner the space and protection they needed. In the second half Lochner, who had terrorised Pat and Mick, now went after Bill Gray. Bill Clark and Ron Jarden had developed a fantastic understanding playing as they did for the same club and provincial side. Ron would kick infield from the touchline after a backline movement and Bill would either give chase down the centre of the field and pressure the opposition's backline or, more often than not, catch it and punch upfield. Bill was a wily fellow, very strong; he had a big tank, and could be pretty quick in short bursts. Hence, for every wayward kick Ron made, Bill still constantly tracked the ball. As a result the Boks struggled to close Bill down and he became one of the few who put regular pressure on the Bok's line throughout the game. One of the other heroes of the day was Morrie Dixon of Canterbury. I rated Morrie highly as a competitor, and so did the Cantabrians. Sadly, he is another fellow who didn't get the recognition he deserved from the selectors or the New Zealand public. Morrie wasn't quite as quick or skilful as Ron, but I'd really grown to admire his skills as a line-out thrower during the countless extra practices we had prior to the second test. He was a great tackler and an incredibly feisty scrapper. He was also the master of the wind-up. A highlight of the match was when he called Paul Johnstone 'yellow', which, in twenty-first century terms, means a coward. In those days it was one of the worst things you could call a man and it set Johnstone off. Morrie and my Wellington teammate, Don Hayward, turned out to be my greatest teachers in the art of niggling. If you could cause your opponent to worry about you, then you'd won. If he got to fighting you, even better; it meant he'd clearly been rattled and was focused on you rather than his team's game plan. We limped back to the changing room. Down the hall the winning Springbok team were well pleased; their spirits were up and they were celebrating their victory. Our mood was as sombre as the weather. Nevertheless, some wonderful things came out of this experience.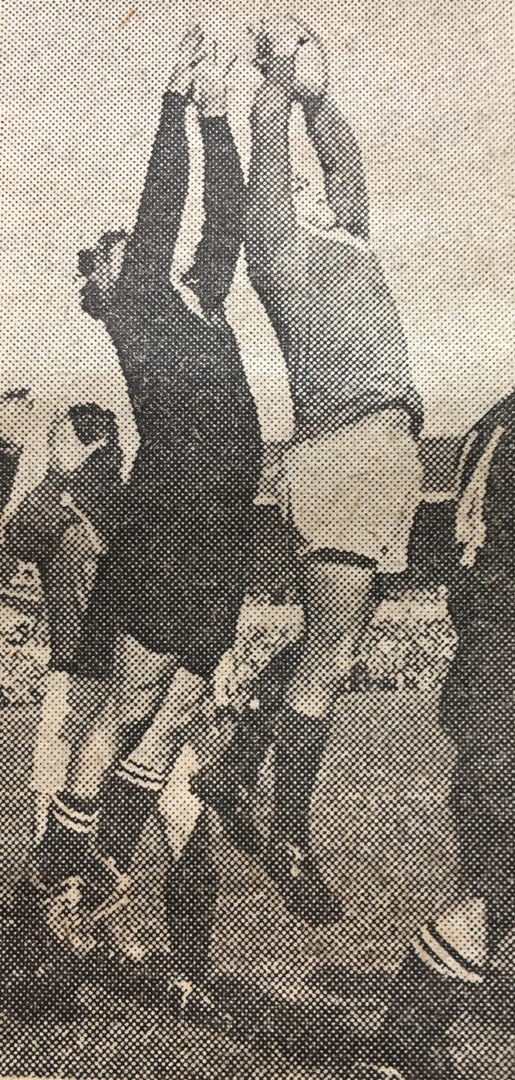 Neven MacEwan contesting a line-out with Roddy Evans, 1959
1956 - The Aftermath The selectors were always reviewing and assessing individual player's abilities and making changes they thought would improve the team's performance. I did not play well enough to retain my position in the playing fifteen but was retained as a reserve. The Evening Post referred to me as 'a young player, making his international debut in a totally unaccustomed position, [and who] was not surprisingly unsure of himself on Saturday.' McLean, in The Battle for the Rugby Crown, called me 'a magnificent physical specimen who had not shown, as yet, the toughness nor the cunning and craft of the ideal test forward.' Headlines like that didn't bother me. I was part of the reserves for the entire series so I continued watching, learning and helping out the team selected to play on the day. I felt very much part of the team. It's a curious thing when you're part of an elite squad, but still a fan of the game at heart. I was as excited as everyone else when Don Clarke, Ian's brother, was finally selected for the All Blacks. He was joined by Peter Jones and Kevin Skinner. Kevin Skinner played for Otago but he was also the New Zealand heavyweight boxing champion in 1947. He was greatly respected as a player; you certainly didn't want to try and put one across him. If you did you would come off second best. I know from experience. My Encounter With Kevin Skinner In my first season playing for Wellington on our southern tour we played against Southland, Otago, South Canterbury and Canterbury. In the match against Otago, there was this guy in the line-outs who was being very disruptive and making things very difficult for me to jump cleanly for the ball. I turned to Don Hayward as I always did when I was receiving interference when jumping for the ball and said, 'Don, fix him!' Don replied, 'You're a big boy now. You fix him yourself!' I had to stop this guy from disrupting my line-out jumping. Don Hayward had made it quite clear he was not going to do anything about it. So at the next line-out on our 25-yard line I let fly with a wild punch which missed the offender. The swing was duly noted by the referee and I was penalised. I found myself under the post deeply frustrated as Otago prepared for a shot at goal, when Don came up to me, and said: 'You silly boy. Do you know who that was you took a swing at?' I replied, 'No.' Don shook his head. 'That's Kevin Skinner, the New Zealand heavyweight boxing champion!'
Don and Kevin were very close mates. Don was Kevin's best man at his wedding. So I was set up by Don and the three of us would entertain people with that incident for years.
'When the Crowd Stops Roaring' is published by WSP and is available to buy here.