From The Vaults
06 April 2020
Famous English International Tries in the Amateur Era - Part 2
Last week we posted Part 1 of our Famous English Tries in the Amateur Era, looking at 1910-1969. Now onto Part 2…
The advent of coaching and tighter marking of opposing teams meant that there were fewer runaway tries from the 1970s onwards. Memorable Twickenham tries kept on coming though. A remarkable "combination" try was scored by Harlequins full back Bob Hiller against Scotland in 1971. A break from inside the English 25 by the winger Jeremy Janion led to the ball passing through the hands of five England players before Hiller followed up to score in the right hand corner. It was the second of the three tries he scored that season from full back, an English record for full back tries at that time. England won their eighth Grand Slam with a superb running display at Murrayfield in March 1980 but they lost their opening match at Cardiff in January 1981. They then went on to beat Scotland 23-17 at Twickenham scoring two outstanding tries in the process. Their young centre Clive Woodward in his second international season scored a superb individual try in the first half by leaving the Scottish defence standing in a 40-metre twisting run to the try line. With the game in the balance in the final minutes, Huw Davies the Cambridge University fly half on his debut ran 40 metres to score after linking up with his wingers Mike Slemen and John Carleton.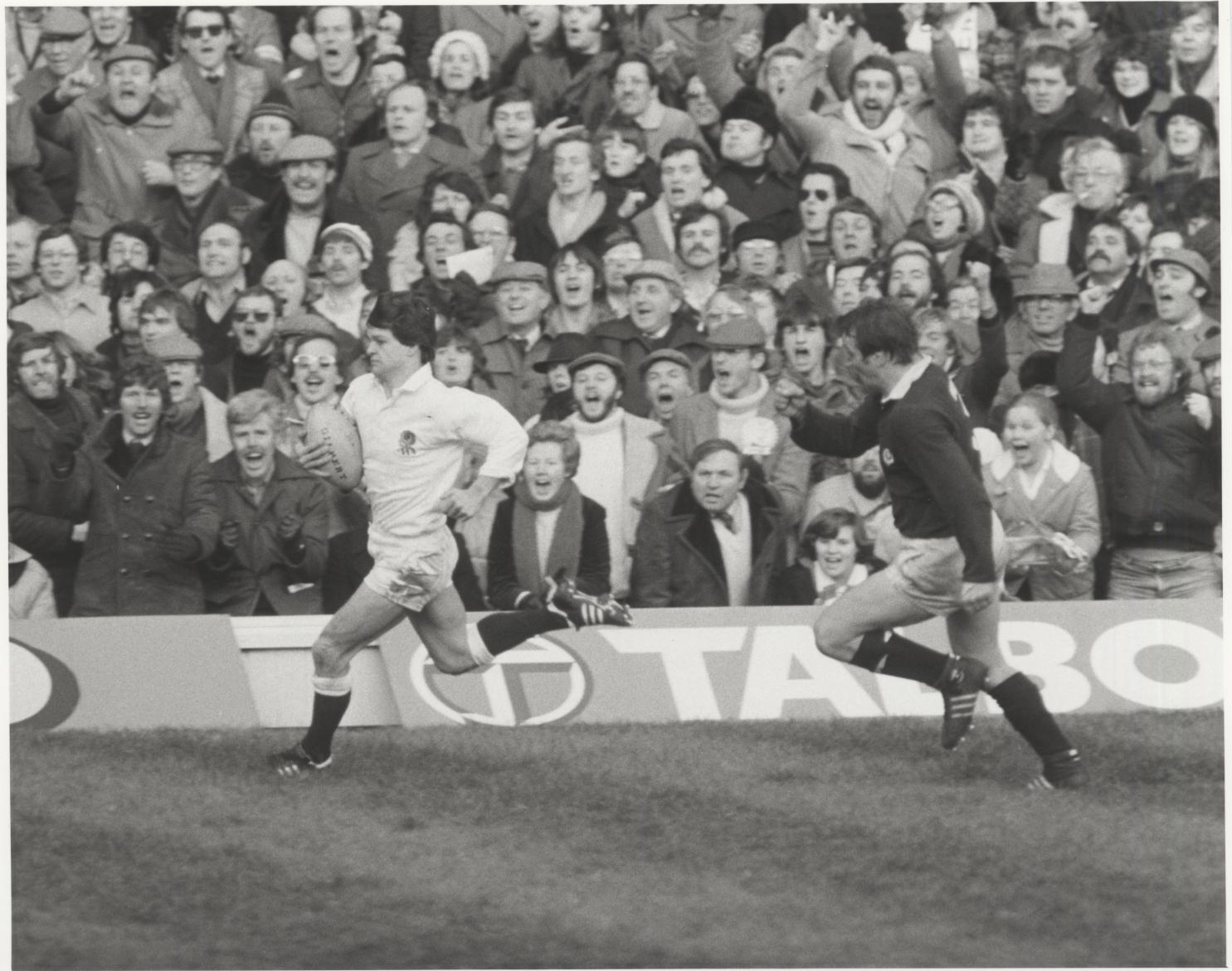 Huw Davies during England v Scotland at Twickenham, 1981
In March 1986 midway through a championship in which they had lost both their opening games, England gave a first cap at number eight to the powerful young Leicester forward Dean Richards. He brought much needed authority to England's back row play and scored two tries from the back of the scrum on his debut in England's 25-20 victory over Ireland. He would have scored a unique English hat trick of tries from number eight if the Irish scrum had not collapsed giving England a penalty try just as Richards was about to touch the ball down over the Irish line. The 1988 season began inauspiciously for England with defeats by France and Wales followed by a narrow win against Scotland at Murrayfield. For the final match Ireland at Twickenham, England made just one change to their side and the score at half-time was 3-3. The final score was an amazing 35-3 as the English left wing Chris Oti in only his second international and right wing
tore the Irish defence apart in scoring five tries between them. By the end of the match the crowd was lustily singing
in tribute to Oti's inspiring three-try performance.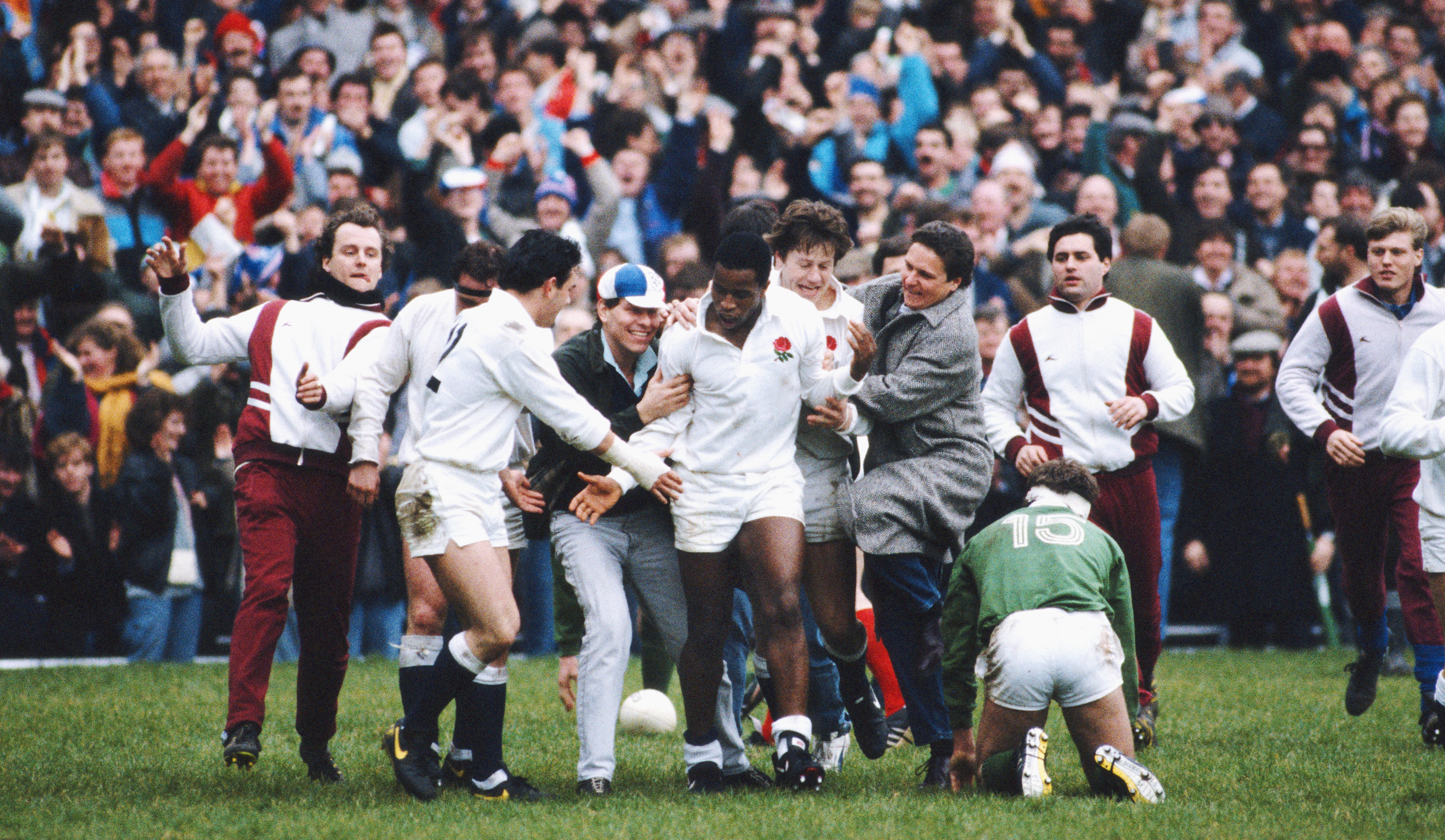 Chris Oti after England v Ireland at Twickenham, 1988. Photo Credit: Dan Smith/Allsport/Getty Images
Later in the year in the first match under the captaincy of Will Carling England beat Australia 28-19 in a thrilling match. Rory Underwood scored two of his trademark wing tries squeezing in at the left hand corner on each occasion, but it was the run-in for the match-winning final try by centre Simon Halliday after a searing break by centre Will Carling in the final minutes of the match which lingers most in the memory. In March 1991 England at last secured their first Grand Slam since 1980 in an enthralling match against France. After the French winger Philippe Saint-Andre had scored one of the greatest tries ever seen at Twickenham, Rory Underwood scored a crucial try before half-time in which he took on his opposing winger Jean-Baptiste Lafond and "left him for dead" before scoring in the left hand corner. It was to be England's only try of the afternoon but one of their most important tries of the 1990s. Not to be outdone in the final Six Nations tournament before rugby went fully professional, Rory Underwood's brother Tony distinguished himself in the February 1995 clash with France by scoring two tries late in the second half to win the game for England.
Tony Underwood during England v France at Twickenham, 1995. Photo Credit: Chris Cole/Allsport
Sources:
The Book of English International Rugby 1871-1982 - John Griffiths (Willow Books 1982)
Thorny Encounters - Matt Elliott (Pitch Publishing 2018)
The Who, When & Where of English International Rugby since 1947 - Dan Stansfield (Stansfield 1997)
World Rugby Museum international spreadsheets 1871-2020 (compiler: Richard Steele)
About the Author - A professional musician and arts administrator, Richard Steele has had a life-long love of sport. He has been on the committee of the World Rugby Museum at Twickenham since 2005.