From The Vaults
Swing Low, Sweet Chariot was first sung at Twickenham during the 'Chris Oti match' of 1988. Or was it? New research by the World Rugby Museum casts doubt on this claim and puts forward a new theory for how and why the song became synonymous with English rugby…
Despite being the largest and arguably the most famous rugby ground in the world, Twickenham for much of its history has not been noted for song. While stirring renditions of Bread of Heaven and Fields of Athenry were performed elsewhere, polite chat in the West Car Park and a hearty round of applause when the teams take the field were historically more in keeping with the spirit at HQ.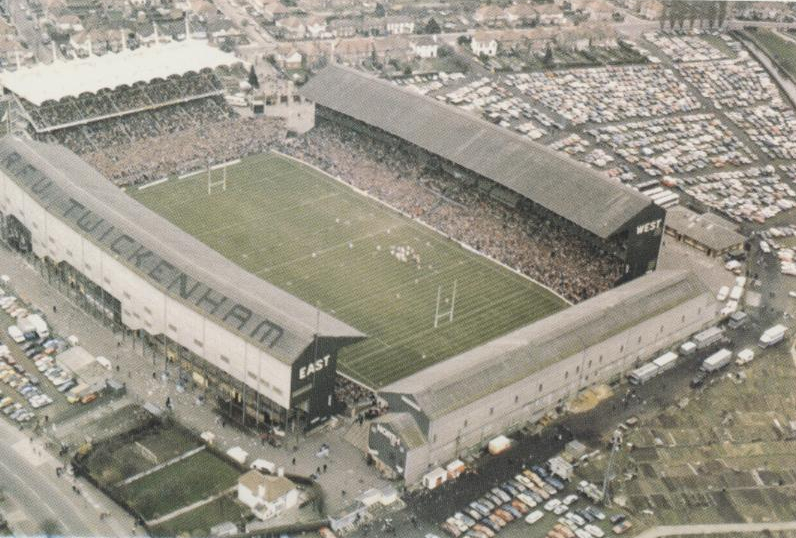 Twickenham Stadium, 1982
But that all changed in the late 1980s when Twickenham belatedly found its voice. The story goes that, inspired by a hat-trick of tries from wing Chris Oti, the Twickenham crowd spontaneously broke into song. Their chosen anthem, 'Swing Low, Sweet Chariot', established itself, almost overnight, as English rugby's call to arms. That the fans were jubilant was easily understood. England had lost five out of six games at Twickenham prior to Oti suddenly helping them to victory against Ireland on 19th March 1988. Their choice of song however was rather more baffling. 'Swing Low, Sweet Chariot' is an African-American spiritual. A deeply moving song,it was not a natural choice of song to be sung in support of the English national rugby team. Over the years many explanations have been put forward as to the choice of Swing Low with the most popular being that it was sang at Chris Oti at Twickenham in 1988. Another being a small contingent of children from the Douai School In Berkshire were present at the match and have claimed that they were the inspiration behind the song, which at the time was that of their school rugby team. Another group of fans from Market Bosworth Rugby Club in Leicestershire remain adamant that it was they who first started the song from the North Stand, not after Oti's try but after Gary Rees had touched down Rory Underwood's run for England's first of six tries. The song is known to have been sung in English rugby clubhouses from at least the 1960s, often as part of a drinking game, but Swing Low's introduction to Twickenham has, it seems, never before been fully understood, until now. New research from the World Rugby Museum and footage found in the BBC archives can now reveal that 'Swing Low, Sweet Chariot' debuted at Twickenham, not in March 1988 after all, but in the previous summer of 1987 at the Middlesex Sevens tournament.
The Middlesex Sevens was a festival of rugby that had first been played at Twickenham in 1926. Featuring leading clubs, invitational sides and the occasional national team, the tournament was recognised as a kind of end-of-season party for which fans would set-up home in the Twickenham West Car Park from as early as 6am. 1987 was a vintage year of glorious sunshine and flowing rugby that would see local defending champions Harlequins and another local side Rosslyn Park II advance to the final. Rosslyn Park, based in Roehampton, boasted former England international Andy Ripley, still playing at the age of 39. Their fans, however, were eager to see someone else, an explosive young talent named Martin Offiah, recently back from lighting up the Hong Kong Sevens. Though only 22, Offiah had gained a reputation for his speed and try-scoring ability and did not disappoint. A quiet sense of mania grew in the sell-out Twickenham crowd each time he took to the field and, despite carrying an injury, Offiah arrived at the final having scored in every round. Earlier in the year it had taken New Zealand to stop Offiah's Penguins invitational side in the semi-finals of the Hong Kong Sevens. Now fans were turning up solely to watch him play. Stellar performances such as this had not gone unnoticed and the 1987 Middlesex Sevens tournament would be prove to be Offiah's final appearance for a union side, before crossing the codes to Rugby League. An outstanding professional career followed and by the time of his retirement Offiah had scored over 400 tries and was recognised as one of the greatest rugby league players of all time. His nickname, on account of his surname, was 'Chariots'.
Martin Offiah for Wigan in 1996 (Photo by Andrew Redington/Allsport)
His surname was actually pronounced 'Offyer' but his club-mates at Rossyln Park preferred to pronounce it, 'O-fire'. This allowed for the play on words, 'Chariots Offiah', in reference to the film 'Chariots of Fire'. It would seem that word had gotten around the stands during the 1987 Middlesex Sevens and so a suitably old club-house song was dug up to mark the occasion. As shown on the BBC Rugby Special, in the opening moments of the final match 'Swing Low, Sweet Chariot' is sung loudly from the stands and again as Rosslyn Park score later in the first half. Commentating for the BBC, the late, great 'voice of rugby' Bill McLaren describes as 'magnificent' the 'great waves of song echoing around this great ground' as Swing Low rings out. In the pre-professional days Twickenham had a faithful crowd and it was often the same people that went to the Middlesex Sevens that attended most of the international matches. The song had evidently made an impression on the crowd, who were eager to try it out again. Sadly England's next match at Twickenham was against Wales and they failed to score a try, losing 11-3. The opportunity finally arose with the six try win of Ireland, in which Chris Oti scored his hat-trick. So what of legacy? The 'Chris Oti match' remains as one of the most impressive Twickenham debuts of all time, but Swing Low lore must now be rolled back to the previous summer and to a player who made a lasting impact on amateur rugby union before becoming a rugby league legend. 'Swing Low, Sweet Chariot' therefore, when sung at Twickenham, derived from a witty play on words but is ultimately an expression of support.
Steve Menzies and Martin Offiah, Rugby League World Cup Final, 1996 (Photo by Anton Want/ALLSPORT)
Martin Offiah eventually succumbed to injury in the 1987 final which Harlequins won 22-6. Several years later it was discovered that he had been playing with a fractured bone. He returned to the tournament in 1996 with a star-studded Wigan RL side that included Andy Farrell, Jason Robinson and Shaun Edwards, all of whom would go on to make profound contributions to rugby union after their rugby league careers had ended. On that occasion Offiah was successful, defeating Lawrence Dallaglio's Wasps in the final. The Middlesex Sevens tournament was last played in 2011. The Russell-Cargill Memorial Cup is now on display in our Rugby Sevens gallery.