From The Vaults
09 July 2016
Lest We Forget – Robert Lawrence Pillman (England) 09/07/1916
Robert Lawrence (or Laurence) Pillman was born in Sidcup, Kent the youngest of five children of Joseph Charles Pillman and his wife Mary Anna. His older brother Charles "Cherry" Pillman was, like Robert, an England international. Their father was a corn merchant in the company of Pillman and Phillips in the City of London, and he was a local Justice of the Peace. Robert was educated first at Merton Court School and then at Rugby, where he played in the 1st XV for three years. After leaving Rugby he was articled to Messrs. White and Leonard, Solicitors, Ludgate Circus, but the war came before he could qualify. Playing, like his brother, his club rugby at Blackheath Robert was good enough as a flanker to be selected for Kent and for London Counties. The latter honour, against the touring South Africans at Blackheath in late 1912, brought a notable 10-8 victory over a touring side that won all four internationals against the home countries that season. His only England cap came in game against France in 1914, which was last before the lamps went out all over Europe. His cap owed much to the non-availability of Cherry, also a flanker, who had a broken leg from the previous game (v Scotland).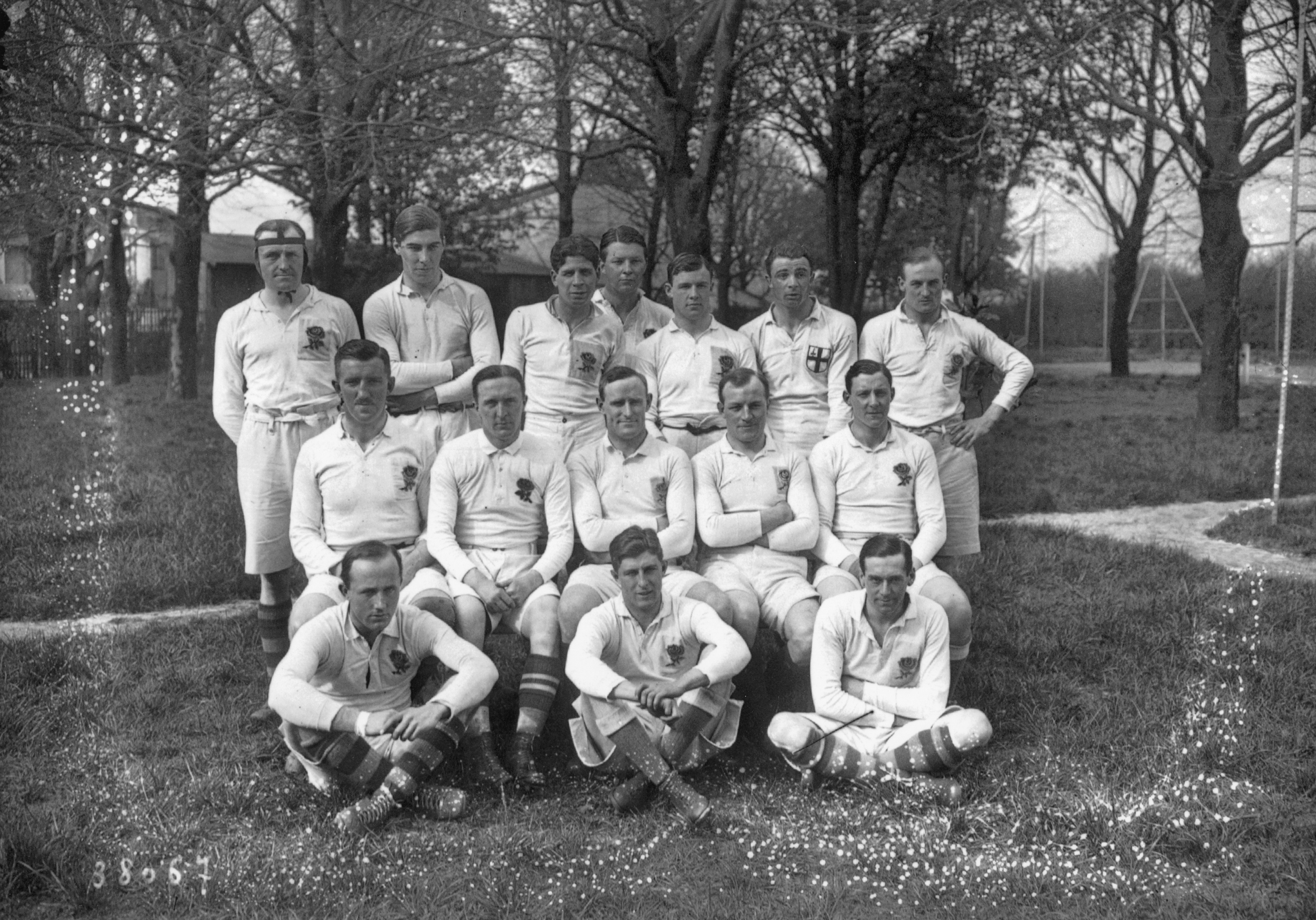 Robert Pillman- back-row, centre. England team to face France, 1914
Robert Pillman especially excelled at one other sport - golf - where he played off scratch. Just before the outbreak of war he won the Gold Medal of the London Solicitor's Golfing Society. Along with many thousands of others, Pillman followed the call to arms, enlisting on 1st September 1914 as a private soldier in the 10th Battalion of the Royal Fusiliers. Rapidly selected for advancement Pillman was gazetted as a Second Lieutenant in the Queens Own (Royal West Kent) Regiment in July 1915, swiftly being promoted to full Lieutenant in October that year and Captain in January 1916. Very quickly "D" company of the 10th Battalion arrived in France, where Robert volunteered for special duty and was appointed as Brigade bombing officer. As the Somme offensive opened Pillman was hit on 9 July 1916 as he led his men back from a night raid near Armentieres, succumbing to his wounds a few hours later after just two months of active duty at the front. Captain ROBERT LAWRENCE PILLMAN is buried at Calvaire (Essex) Military Cemetery Ploegsteert, Comines-Warneton, Hainaut, Belgium [Grave IV. D. 10.]. He is remembered on the local memorial in Sidcup, and at Merton Court and Rugby Schools. Like many rugby clubs, Blackheath suffered grievous losses, and Robert Pillman is one of six England internationals remembered by the club. He did not marry.
---
For more information on the Rugby Football Union's First World War commemorations visit http://www.englandrugby.com/about-the-rfu/ww1-commemorations
For details of the other 26 fallen England players click here.
The World Rugby Museum would like to thank Mike Hagger for researching and writing this article. Please like the World Rugby Museum on facebook and follow us on twitter to receive further tributes to the international rugby players who fell in the Great War.