From The Vaults
29 September 2018
Lest We Forget - Frank Jacob Gard (USA) 29/09/1918
Frank Jacob Gard (1892-1918) was a flanker who captained Stanford University and the All-American team that played Australia (1912) and New Zealand (1913). He was a Lieutenant in the infantry who was killed in action at the Battle of Argonne Forest, France.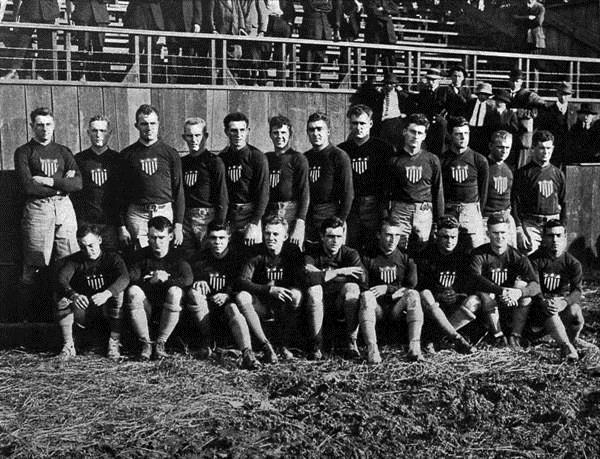 USA team v Australia, 1912. Frank Gard, 6th from left in back row.
The Gard family originated from Bideford, Devon, and emigrated to America in the early 17th century. Frank's father was Emerson Earl Gard (1862-1943) who was born in Tremont City, Clark, Ohio, on 18 September 1862. His father was Silas Gard, a farmer. On 11 May 1891, he married Laura E Shanley (1862-1945) at Urbana, Champaign, and they had two children: Frank Jacob (1892-1918) and Mary Carolyn (1893-1971). In 1900, the family lived at German, Clark, Ohio, and Emerson was a 'lumber dealer'. In 1905, he moved the family to California. In 1910, they lived at Azusa, Los Angeles where Emerson was a fruit farmer. In 1920, Emerson and Laura lived on Grand Avenue, Azusa, and he was a farmer with an 'orange ranch'. He became President of the Glendora Heights Orange & Lemon Association. By 1930 he was the Vice-President of the First National Bank, Glendora, and they lived at 3020 Lombardy Road, Pasadena. Emerson died in Los Angeles on 11 April 1943. Frank Jacob Gard (1892-1918) was born in Tremont City, on 27 March 1892. In 1910, he lived with his parents at Ben Almond Avenue, Azusa, Los Angeles. He attended the Citrus Union High School and then went to Stanford University to study chemistry. On 19 December 1916, he enlisted in the coastal artillery. Soon after America entered World War 1, he enlisted in the Army and was sent to the officers' training camp at Presidio, San Francisco, where he emerged as a 2nd Lieutenant. He then went to Camp Lewis for further training and was promoted to Lieutenant and became a 'drill master'. In July 1917, he sailed to France aboard the Empress of Russia with the 91st Division. They arrived in Liverpool and marched through the streets to the Knotty Ash Camp before boarding a train to Southampton for the voyage to le Havre. He served as a Lieutenant with Company M in the 362nd Infantry. On arriving in France, they trained for several weeks before marching to the front as part of the Meuse-Argonne offensive. He was shot by a sniper during the Battle of the Argonne Forest on 29 September 1918. He was in an advanced position while reconnoitring enemy gun emplacements. Apparently, this was near the spot where his great-grandfather fell after serving for eight years in Napoleon's Grand Army. Frank is buried at the Meuse-Argonne American Cemetery, Romagne, France (Plot B, Row 33, Grave 24), the largest American cemetery in France. There is a memorial plaque at the Oakdale Memorial Park, Glendora, Los Angeles. Rugby career He was captain of the Stanford University team in 1914 where he was known as 'Deacon' ('Deke') Gard. He played as a right-sided flanker. While at Stanford he was star of the athletics team winning honours in the relay and mile races. He was captain of the All-American team that played Australia (12-8 defeat) on 16 November 1912 and New Zealand (51-3 defeat) on 15 November 1913.
This section is based on the public member tree at ancestry.co.uk - USA Rugby 1911-13 Frank Jacob Gard Family Tree. Acknowledgements to Patrick Casey of the Rugby History Society for some of the details in this biography - www.therugbyhistorysociety.co.uk The graves and official records give 29th as his death date, however, the history of the 362nd Infantry Regiment gives the date as the 27th.
About the Author - Andrew Miller is a retired professor of education who worked at Warwick and Middlesex universities. He was an adviser to both Conservative and Labour Governments on links between education and business. He has researched family trees, as a pastime, for family and friends, for over ten years. For over two years, he has been working with the World Rugby Museum to write short biographies of early rugby players based on research into their family trees.
---
Follow the World Rugby Museum on Facebook, Twitter and Instagram.