From The Vaults
10 June 2019
After the War: The Victory Internationals, 1945-46
by J. R. Suber On a chilly Saturday in November 1945, fifteen Englishmen in white long-sleeved jerseys lined up on the green pitch of Twickenham Stadium. Opposite them and through the grey mist stood a team of New Zealanders, their black jerseys stamped with the silver fern. They certainly looked like the All Blacks but they weren't, and the entire affair did look like an international fixture but it wasn't-at least not officially. Rather, it was the first match in a celebratory post-war series known as the Victory Internationals.
England team v New Zealand, 24/11/1945, Twickenham
With the onset of the Second World War, official international rugby was put on hiatus in 1939. After the war ended in 1945, there was one interim season before fixtures officially resumed in 1947. It was in this period that the Victory Internationals were played to fill the void. This November match at Twickenham was the first on those grounds in seven long years. No caps would be awarded that day, but this technicality likely mattered little to the roaring crowd of thirty thousand. The England XV lost to the so-called Khaki All Blacks, 3-18. Though surely disappointed, England could look for redemption ahead with matches against Scotland, Wales, and Ireland in the coming months. More than anything, the series marked the beginning of the U.K.'s journey towards rebuilding and healing after years of devastation. To be sure, there had been some international rugby during the wartime years but always in a limited capacity. Instead of national teams, sides were drawn from the different Allied services. The venues were different as well, since many of the large sporting stadiums were requisitioned to serve various wartime purposes. For example, Twickenham was made into a civil service depot to be used in case of an attack. For these matches, no caps were awarded. The reasoning for this was that sides were not fully representative, as so many players were stationed overseas. This remained the case during the Victory Internationals.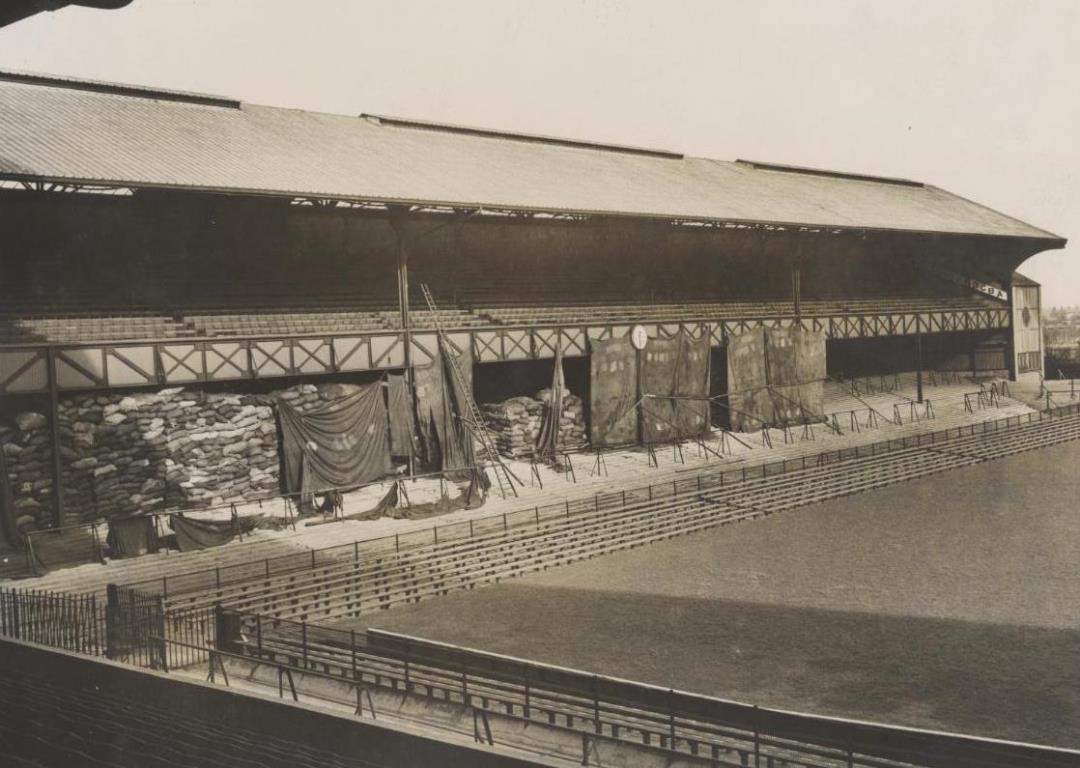 Twickenham Stadium during the Second World War
Despite the unofficial nature of the series, it proved to still be a high-level international competition that featured some serious talent. For example, the Khaki All Blacks team may have been made up of soldiers from the 2nd New Zealand Expeditionary Force, but it was captained by All Black Charlie Saxton and included sixteen players who went on to become All Blacks, such as future legendary coach Fred Allen. This team of soldiers only lost two matches in their thirty-three-match tour of the U.K. and Europe, a superb record that later in 1997 earned them induction into the New Zealand Sporting Hall of Fame. The Home Nation teams featured talented players, as well. England was captained by center Jack Heaton, a pre-war cap and star of Waterloo and Lancashire. He was joined in the backline by his cousin and speedy winger Dickie Guest, prodigious kicker Nim Hall, and scrum-half Gordon Rimmer; the English pack was a reliable one that included future RFU president Micky Steele-Bodger and future England captain Joe Mycock. Two of Ireland's youngest players went on to become some of its best of all time. Nineteen-year-old Karl Mullen debuted against France in a January 1946 match. Renowned for his leadership, Mullen would go on to captain both Ireland (to its first Grand Slam Victory) and the British Lions. Jackie Kyle made his international debut against England in February, the day before his twentieth birthday. Kyle, one of Ireland's greats, went on to rack up a staggering forty-six caps, plus six for the Lions. The Welsh team included the "Prince of Centres"Bleddyn Williams and his center partner Jack Matthews, both future Lions players. At lock was Rees Stephens, who would earn thirty-two caps for Wales. There was also the legendary Haydn Tanner, who famously helped Wales beat the All Blacks before the war in 1935-Tanner of course is still considered one of the best scrum-halves of all time. A highlight of the Welsh campaign was narrowly upsetting England, 0-3, at Twickenham, their first win on those grounds since 1933. Scotland was actually the strongest side of the series. Their break-out player that season was the 6'3" flanker Doug Elliot, who went on to earn twenty-nine caps. The roster also included future SRU presidents Charlie Drummond and Frank Coutts, as well as scrum-half Gus Black, a future Lions player. Scotland was one of the only two teams to beat the Khaki All Blacks, and they would finish the Victory Internationals with the best record among the Home Nations, losing just once to England.
England v Scotland, 16/03/1946, Twickenham
Although journalists noted the rusty form of the actual rugby, that was to be expected given the years of wartime hiatus. Form aside, the Victory Internationals had all the trappings of a true rugby spectacle. There was legitimate talent on display, television and newspaper coverage, and substantial crowds-tens of thousands of spectators turned out at Murrayfield, Lansdowne Road, Cardiff Arms Park, and of course Twickenham. The series ended in April 1946 and selection trials were held as usual that fall. International rugby officially resumed on January 1, 1947, when Scotland took on France in Paris to kick off the annual Five Nations Championship. While many from the Victory Internationals went on to earn their caps, not everyone did, such as two-time Cambridge captain Eric Bole and Gloucester flanker Johnny Thornton. Author Huw Richards points out that this cap business remains a contested topic, with some arguing for what is "morally true, but factually incorrect" (Richards, The Red & the White, 114). Interestingly, France did award caps to its players at the time and Wales retroactively awarded "president's caps" in both 2013 and 2015. Regardless of such technicalities, the significance of the Victory Internationals lies in its role as a necessary bridge between war and peace, a first step towards the healing of a nation, and a historically unique celebration of rugby camaraderie. A list of Victory International matches is available here.
Footage of several matches are available on YouTube at the links below.
About the Author - J. R. Suber is an avid rugby fan and amateur historian. He has recently completed a biography about Eric Bole's rugby career, available on Amazon.