From The Vaults
11 March 2019
What Constitutes a National Treasure?
The Oxford English Dictionary defines a 'national treasure' as something that is emblematic of a nation's cultural identity. The World Rugby Museum has at least one of these on its register in the shape of the world's oldest international football trophy, otherwise known as the Calcutta Cup.
So called because it was crafted in the Indian city (Kolkata) by Indian silversmiths it contains in its shape and design echoes of a shared history between Britain and India and the early development and spread of team sport. The Calcutta Football Club was founded in 1872 and became affiliated with the RFU two years later. The mainstay of the club were the Buffs (Royal East Kent Regiment) 1st Battalion who were stationed in Bengal through most of the 1870s. When the Buffs began to move out the club lost momentum and decided to disband in 1877. A letter was then sent to the RFU by Mr G A James Rothney informing of the club's intention 'of doing some lasting good, for the cause of Rugby Football' with the remaining funds in the club's bank account. Rothney's proposal was that a 'Challenge Cup' be produced and he asked the RFU if they should like it to be produced in India, using Indian silversmiths, or if they would prefer the money so that the trophy could be produced in London.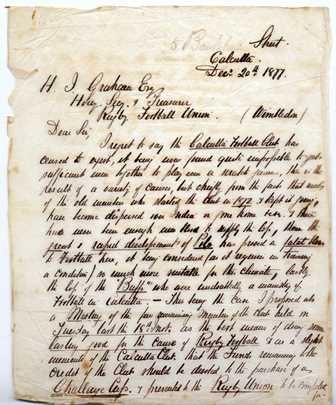 Out of respect for the silversmiths of Calcutta the RFU requested the trophy be produced there and informed Rothney that the trophy would be presented to the winners of the annual international contest between England and Scotland. Having withdrawn the remaining 270 silver rupees from the club's bank account the coins were then melted down by Cashmere Silverwork and fashioned into a loving cup of pure silver. Rothney reports actual specimens of king cobra snakes being used in the production of the trophies three handles and the elephant on the lid is described by as being of Viceroy stock, in reference to the British Governor-General and the elephant processions that had carried the rulers of India for over 2500 years. The result is one of the most beautiful and unique trophies in world sport. It was contested for the first time in 1879 when the match finished a tie. It was claimed for the first time, in 1880 by England, after Len Stokes' side's resounding win in Whalley Range, Manchester. Scotland won it for the first time, on the same ground, two years later. Although Rothney was clear that 'the Cup should remain the absolute property of the RFU, a gentleman's agreement means that the trophy is, to this day, awarded to the most recent winner of the world's oldest international football test-match.
This weekend the Calcutta Cup can be seen inside the World Rugby Museum's 1871 room.