From The Vaults
18 December 2015
BBC Sports Personality Team of the Year
The BBC Sports Personality of the year award has been running since the mid-1950s. Originally devised by the British television executive Sir Paul Fox, the awards have evolved to honour not just individual talent from the UK but also team achievements, overseas personalities, coaches, junior sporting personalities and more. The Sports Personality Team of the Year was first awarded in 1960 and Formula One team Cooper collected the inaugural prize. Here at the World Rugby Museum we are lucky enough to have 4 awards in our collection. Rugby Union was first honoured with the award in 1971 after the British and Irish Lions achieved test series victory against New Zealand but we have to fast forward 20 years before we come to the first item in our collection:
1991 - England Rugby Union Squad 1991 was a Grand Slam year for England and the team also finished as runners-up to Australia in the 1991 Rugby World Cup. The award was actually given jointly to the England squad and the British Men's 4 x 100m relay team - only the 2nd ever time it had been shared.
1993 - England Rugby Union England winning the award in 1993 came as something of a shock. Many people believed that Manchester United should have been the victors after winning the Premier League and the FA Cup, whilst for the England rugby team it was not such a fruitful year - they came second from bottom in the 5 Nations with their only saving grace being a 15-9 win against New Zealand at Twickenham. The BBC's decision was so controversial that a motion was carried in parliament requesting an explanation for the decision!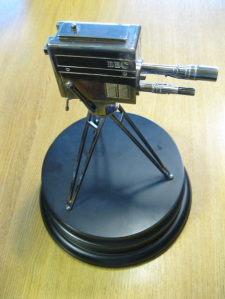 1997 - British and Irish Lions In 1997 the Lions team toured South Africa, winning 11 out of their 13 matches, and securing a series victory by winning 2 out of the 3 test matches against the Springboks. We also have the 'Lion Challenge Trophy' in the collection which was awarded to the team in South Africa to mark their victory.
2014 - England Women's Rugby Union The England Women's team beat Canada 21-9 in Paris to win the World Cup for the first time since 1994. The victory came after England had finished runners up at three consecutive tournaments. The RFU awarded professional contracts to twenty of the winning squad who have since become the first professional women's rugby players.
---