From The Vaults
30 July 2021
Remembering the Aston brothers and the 1891 Lions
Randolph Littleton Aston was the elder of two brothers who occupy a significant place in 19th century rugby history. Born in 1861 and educated at four public schools and at Gonville and Caius College, Cambridge, Randolph played for the University in two matches against Oxford University in December 1889 and in March 1891, a match postponed three times from December due to fog.
His play for Cambridge, Blackheath and Kent was sufficiently impressive for the England selectors to choose him as their sole centre in a three-man back line for the internationals against Scotland and Ireland in March 1890. Both matches were won without a try being conceded, but these were to be his only England caps. His claim to fame would rest on his exploits for two invitation teams for which he played with particular distinction.
On 27 December 1890 he was selected to play in the first ever Barbarians rugby team against Hartlepool Rovers under the captaincy of Andrew Stoddart. He scored a try in that match and then played in the three remaining matches of the inaugural season of the Barbarians - a draw against Bradford, a 3-7 loss to a very strong Cardiff side packed with Welsh internationals, and a convincing 11-0 victory over Devonshire in which he also scored a try.
These were Randolph's only matches for the Barbarians, but his younger brother Fitzmaurice 'Ferdie' Aston born two years later in 1871 followed him as a three-quarter in playing for Blackheath and was picked for the Barbarians against Dublin University in December 1891. He played four more matches for the Barbarians before the end of the 1891-92 season after which he emigrated to South Africa where he and his elder brother established their long-lasting reputations.
The first pioneering tour by a combined British team to South Africa took place 130 years ago. Twenty one players were chosen to tour under the captaincy of the great Scottish three-quarter Bill Maclagan and the party included eight capped players, four each from England and Scotland including Randolph Aston. Ten of the 21 players had links with Cambridge University, so there was considerable rugby expertise within the overall group of players.
The 1891 tour comprised 20 matches and Randolph played in the centre of the three-quarter line in every match including the three test matches. He scored thirty tries, a record for a player in a touring team in South Africa unmatched to this day. Despite the extraordinary difficulties the tourists encountered in travelling around South Africa and their hectic social engagements between games, they won every match and conceded only one try during the tour. They left a huge legacy to the game of rugby in South Africa and Randolph Aston reached heights of true greatness.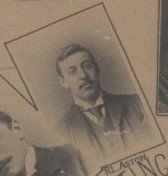 His opponent in the test series and future Springbok captain, Basil Heatlie said:
"Aston weighed over fifteen stone. He had a great reach and took his passes accurately from practically any angle or height. In fact, I remember seeing him pick up a pass at his toes as easily as most men would take one waist-high. He was the finest centre I have ever seen."
If Randolph's rugby career after returning from South Africa no longer reached the heights after he became a schoolmaster at Tonbridge School, his younger brother's career was taking shape.
Ferdie Aston emigrated to South Africa at the end of the 1892 season and he quickly made an impression in rugby circles. He played for Swifts rugby club in Queenstown and was picked for the Border province in their first Currie Cup side in 1893. He moved to Griqualand West for the 1894-95 season and captained the province in five matches towards the end of the season. He moved again at the end of the season to play for Wanderers rugby club in Johannesburg and was selected to play and captain Transvaal in 1896.
Rugby in South Africa had made enormous strides by the time the second British side toured in 1896. This was a stronger team with a substantial Irish contingent of players under the captaincy of the forward John Hammond, a tourist in 1891 and subsequently the manager of the 1903 touring team. They played 21 matches including four tests, the last of which brought South Africa their first victory in an international match.
As captain of Transvaal, Ferdie Aston was not only chosen to play for South Africa in the first test, he was also appointed captain. He led the Springboks in the first three tests and, although succeeded by Barry Heatlie as captain for the fourth and final test at Newlands, he remained in the side throughout the series, one of only two players to do so. His ferocious tackle of the Lions and England centre JF 'Fred' Byrne just before half-time in the final test directly led to the try by half back Alf Larard that gave the Springboks their 5-0 victory.
He also played three further matches against the Lions and Danie Craven described him as:
"A tall fellow, long in the leg, he had a natural swerve and sidestep. He probably made far more tries than he scored himself, being a born leader and a team man."
Like many of his South African contemporaries, Ferdie's rugby career stalled due to the Boer War and, with no incoming tours, his international career ended in 1896 although he played on for Transvaal until 1898. He is known to have played rugby after the war ended, but his days as a top-level provincial and international player were over.
The Aston brothers hold a unique place in rugby history and it is fitting that their contribution to the development and growth of the game in South Africa has always been acknowledged.
Sources:
The Barbarians - A Wemyss & OL Owen (Playfair Books Ltd 1955)
Border Rugby History 1891-1991 - Percy Owen (PEB Printers 1991)
Centenary history of the Rugby Football Union - UA Titley & R McWhirter (RFU 1970)
Griqualand West Rugby - Frikkie van Rensburg(Noordkaaplandse Drukkers Bpk 1986)
History of South African Rugby Football - Ivor Difford (Specialty Press SA 1933)
Rugby Recollections - WJ Townsend Collins (RH Johns, Newport 1948)
A Statistical History of Springbok Rugby - Teddy Shnaps (Don Nelson Publishers SA 1989)
Transvaal Rugby Football Union 100 years - Ferreira, Blignaut, Landman & Du Toit (TRFU 1989)