From The Vaults
04 August 2017
New Zealand's Second Lieutenant Kaipara
A member of the inaugural New Zealand Maori team of 1910, Autini Pitara Kaipara was described by his peers as an outstanding rugby footballer. Leaving behind rugby for the battlefields of Europe in 1914, Kaipara gave his life for his country at Passchendaele on the 4th of August 1917.
Born in 1887, Kaipara spent his childhood in the Bay of Plenty in New Zealand's North Island. He went on to train as a law clerk and became a registered interpreter under the Native Land Act. Kaipara excelled at rugby, playing for the Poverty Bay rugby club from 1906 - 1913. Captaining the side from 1910 onwards, he would also take on Auckland in two Ranfurly Shield challenges. From 1910-1912, Kaipara represented the North Island Country team, touring the rival South Island in 1912. Reflecting back on early Maori rugby footballers in Te Ao Hou's Autumn 1953 magazine, Wallie Ingram told readers that he had ''happy recollections of seeing outstanding Maori footballers in Poverty Bay. One such man was A. P. Kaipara - in the opinion of S. S. Dean, noted rugby administrator - one of the greatest five-eighths New Zealand has produced." It was this skill that saw Autini Kaipara selected in 1910 for the first New Zealand Maoris side. Whilst there, the Sydney Bulletin described him as being "as sharp as a needle and as slippery as an eel,'' having proven his worth on the pitch yet again. The team played a number of games in Australia and New Zealand that year, and continued to grow the following year, with Kaipara remaining on the team in 1911. Malcolm Mulholland explains the beginnings of the side in Beneath the Mā̄ori Moon:
''Within the first four years of its existence the New Zealand Maori rugby team had been on two tours of Australia, had beaten Australia in a friendly game, and had defeated the holders of the Ranfurly Shield, Auckland, in 1910. During this time, a solid foundation had been built from which the New Zealand Maori could grow.''
These were not the first Maoris to represent New Zealand at international rugby. Indeed the first New Zealand team toured New South Wales in 1884 and included legendary Maori players such as Joe Warbrick and Jack Taiaroa. The subsequent New Zealand Natives tour to Britain in 1888 was originally conceived as an all-Maori team, but ultimately included four non-Maori players. It was not until Kaipara's team took on Australia in 1910 that the first New Zealand Maori team was officially selected. In the following years, Kaipara maintained his reputation as a talented rugby player, with one Auckland critic even referring to him as 'The Wizard' in 1913. Prior to the First World War, he lived in Gisborne where he played for the Young Maori Party Club, but in 1914 this changed when he immediately volunteered to serve the war effort. After training, Kaipara made his way to join the Mediterranean Expeditionary Force in Gallipoli in 1915 as a Lieutenant in the Maori Pioneer Battalion. Being admitted to hospital in Malta on 31st of July 1915, Kaipara was transferred from hospital to various posts before being invalided home in April 1916 with synovitis.
Officers of the Maori Contingent in the Auckland Weekly News, September 1915. Kaipara is pictured top row, second from the right
Earlier that year Kaipara had sent a letter home to Mr E. Hooper discussing the war and the brutal Northern Hemisphere winter:
''To prove the severity of the winter, 5000 cases of pakehas with frostbite- but not a single Maori suffered-were invalided back to Mudros Hospital, England, Alexandria, and Malta. It was a strange sight to see healthy and stout men bound up in bandages from head to foot. The Maoris, being sons of Nature, instinctively adapted themselves to circumstances. They were and are enjoying good health, they were the most cheerful unit that returned. They play Rugby (with a Soccer ball) and sing in their tents and on route marches.''
In 1917 Kaipara returned to Europe where he re-joined the 1st Maoris in France, and was posted to "D" Company of the New Zealand Pioneer Battalion. It was just a few months later that he fell in the Battle of Passchendaele.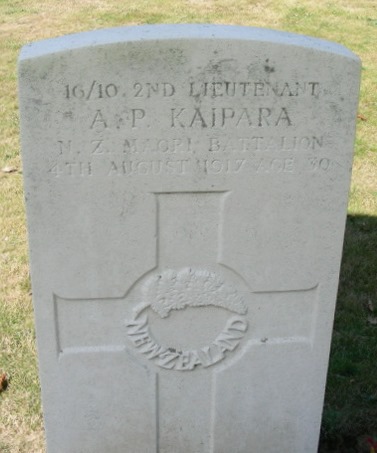 Kaipara's gravestone in Hainaut, Belgium
A fellow New Zealand Pioneer, Corporal Walter Heany, wrote in a letter home in November 1917 detailing how Autini Kaipara fell in battle. It was approximately 1:30 in the morning and the men were wiring a stronghold that the New Zealanders had taken from the Germans. Kaipara insisted on returning for his wounded comrade, but he could barely make his way for the boggy ground. Struck through the head with a piece of shell, Kaipara lost his life that night, along with many others. Kairpara was laid to rest at the Prowse Point Military Cemetery in Hainaut, Belgium.
--------------------------------------------
Autini Pitara Kaipara
27/01/1887 - 04/08/1917
Killed in action - Ypres, Belgium
--------------------------------------------
---
Follow the World Rugby Museum on Facebook, Twitter and Instagram.