From The Vaults
10 April 2016
Young Americans by Stephen Cooper
Barely weeks after the first English Premiership rugby game played in New Jersey, USA by Saracens and London Irish, new evidence has emerged from a club's archives of early American rugby connections in England. The walls of Rosslyn Park's clubhouse carry photographs of its many capped players. Most, unsurprisingly, are English; one name however has been unfairly overlooked. Park can now lay claim to a USA international from an era when rugby was making great strides in the land of the free.
Park's capped American was Herbert Rowell Stolz, here in the 1911-12 XV photo
Born in Hawaii in 1886, he was a graduate of Stanford in California, where he had dug students from the rubble in the 1906 earthquake. Another Rhodes Scholar, he was now studying medicine at Queen's College, Oxford. 'Bert' was an adventurous academic: in a gap year from his studies at Stanford, he almost sank author Jack London's yacht The Snark off Honolulu, by accidentally opening the seacocks. He later wrote the 1951 educational classic Somatic Development of Adolescent Boys, although there is not thought to be a connection with his Rosslyn Park playing days.
Stolz toured Austria-Hungary with Park in 1912, playing exhibition matches in Prague, Vienna and Budapest. He also won his USA rugby cap against the New Zealand All Blacks in 1913, a decisive defeat by 51-3 in San Francisco that demoralised a proud sporting nation, which had come within ten minutes of defeating Australia in the previous year. This bludgeoning by the Blacks was a major setback to rugby's development in America, and gridiron Football reasserted its supremacy. Stolz served as a captain in the US Army Medical Corps, winning an MC during the war, and would assemble the USA Rugby XV in 1919's Inter-Allied games, a post-war 'military Olympics' organised in Paris by the American Army. They competed against France and Romania for the Lou Tsung Tsing silver cup donated by China, but lost 8-3 in the final to the French in a game of excessive violence. Allan Muhr, Philadelphia-born French rugby cap (first to score a try against England) and French Rugby Federation president said it was 'probably the best anyone could do without a knife or revolver.' Donald Grant 'Heff' Herring was another Rosslyn Park 'Yank at Oxford', a Princeton Rhodes scholar at Merton College. This gridiron footballer, wrestling champion and hammer-thrower was the first American to win his rugby Blue at Oxford (a 35-3 victory over Cambridge in 1909). He can be seen seated middle row far left in the 1909-10 XV photograph. Six of his English teammates would later die in the Great War.
H.R Stolz
Having seen the rugby light, Herring tried in vain to persuade his compatriots, in a letter to the Princetonian, that the 'English game of rugby be taken into serious consideration with a view to either substituting I for American football or improving the American game with the best features of the English game'. At a time when American College Football was facing a national crisis with coaching corruption and savage brutality causing several deaths on the field, the New York Times commented:
'Herring who played on two Princeton Varsity football teams… and played on the Oxford rugby team last year and is consequently well qualified to express an opinion, stated that the English game subjected the players to less danger and was at the same time more interesting both to the player and spectator, than the American game.'
During the Great War, Herring was commissioned as 1st Lieutenant in the 94th Aero Squadron that included America's top ace Eddie Rickenbacker. They flew many missions over enemy lines in fragile Spads, a French-built biplane that was faster than other fighters but less manoeuvrable and more difficult to fly. He survived the war but tragedy later struck his family in 1940, with terrible irony after his 1910 letter. His only son, Donald Jr., followed his father's footsteps into a starring role on the Princeton football team, but was seriously injured in a game against Brown University and had to have his lower leg amputated. USA rugby's swansong was its victory in the 1924 Paris Olympics, another match scarred by violence, this time by the French crowd. As we head for Rio 2016 and rugby's first Olympic appearance since 1924, the United States are still reigning champions. And Rosslyn Park can number another international cap in its illustrious history.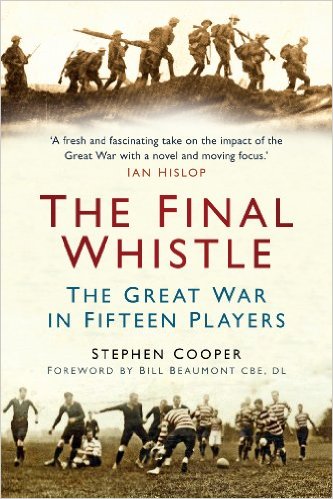 About the Author - Stephen Cooper is the author of award-winning 'The Final Whistle: The Great War in Fifteen Players'. His second book, 'After the Final Whistle: the First Rugby World Cup and the First World War' is now available.
---
Follow the World Rugby Museum on Facebook, Twitter and Instagram.