From The Vaults
12 January 2016
Who's in the plates? Sporting intrigue at Devizes Flea Market
The following conversation took place in the local flea market in Devizes one Tuesday morning.
"Those pictures are of Gloucester playing",

"No they're not, they're wearing the wrong colours"

"I'll show you, I've the original plates to go with them!"
These words clearly imply a difference of opinion, but resulted in some 19 black and white photographs, and more importantly, the original glass plates from which they were taken of rugby in the early 1920s, - but who were the teams?
The first point of contention was quickly resolved, as the glass plate associated with the 'offending' photograph was clearly labelled as the County Championship Final between Gloucestershire and Leicestershire, played at Kingsholm in March 1921. Gloucestershire won 31 - 4. The label identified the Gloucestershire players as Voyce, Ayliffe, Smart, Williams, Tucker and Harris.
Two other plates were labelled as A.F.Fielding, the President of Gloucestershire RFU 1922-3 and, W.A.Thomas of Gloucestershire Referees Society, with a further 4 plates of unidentified teams.
The remaining photographs and plates, although unlabelled, clearly involved an international match between England and Wales. One photograph showed the score as 0 - 35 and the match was played in front of a very large crowd. The ground also looked familiar. It was not, however, a full adult international test-match.
The World Rugby Museum were able to confirm that the game was between England and Wales Schoolboys, played at the Memorial Ground in Bristol in front of 12,500. It was the first of such matches played at the ground shortly after it opened in 1921. The scoreboard also proved correct with records showing that Wales had won 0-35.Further research identified the local dignitary as being the Lord Mayor of Bristol (1922) Alfred Dowling.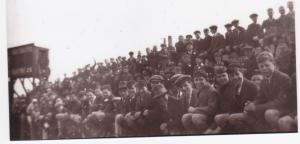 These 'action' shots of the match in progress, especially at this level, are rare indeed, including one photograph of the post-match ablutions and facilities - 3 galvanised buckets!
The 'International' photographs and plates now rest in the World Rugby Collection at Twickenham and the 'Gloucestershire' plates now form part of the Gloucester Rugby Heritage Project.
About the Author - Dave Woodman is a retired civil servant and has been a Gloucester season ticket holder for over 40 years. He travels regularly between Wiltshire and Gloucestershire and conducts rugby 'missionary work' amongst the local 'blue, black and white heathen supporters'.