From The Vaults
Late summer 1939: it was time for Australia's rugby men, the Wallabies, to return to the shores of what many still saw as the Mother Country. Sadly the invitation was as well timed as the worst of hospital passes. International tensions had risen in the late '30s, with Germany's flouting of the Versailles terms and her moves into Austria and Czechoslovakia, Italy's expansionist moves in Africa, the Spanish Civil War, for which more than one Welsh rugby man volunteered, and Japan's aggression in the Pacific.
Scotland v England Programme 1939
Appeasement in Europe gave an impression of bringing breathing - and recruitment - space after 1938. Rugby proceeded as normal, with a three way tie in the Championship, Scotland the unlucky wooden-spooners. France had been promised a provisional return to the fold for 1940. England's 9-6 Calcutta Cup win in Scotland on 18th March was to prove the last international game before the Second World War. Although seven would return to international rugby after it, six players who took part in the game, four of them airmen, would lose their lives on active service. Both fullbacks were to fall, Scotland's George Roberts as a Japanese PoW in 1943 and England's Ernest Parsons from NZ, whose only test was that Murrayfield clash. He was a bomber pilot who won the DFC but was to die over Italy in 1940, just one day before England prop and airman Derek Teden. From the back rows, Scotland's Donald Mackenzie, RAF, and England's Robert Marshall, Navy, DSC and bar, were to perish in 1940 and 1945 respectively, while Scotland scrum-half Tommy Dorward was to prove another RAF fatality in 1941.
'Vay' Wilson at sea
For as September 1939 dawned, Germany had invaded Poland and appeasement was at an end. After a long sea voyage (with some training), the Australian tourists under skipper 'Vay' Wilson arrived in Penzance on September 2nd, due to play 28 matches in ten months: the next day, war was declared. After three weeks of filling sandbags and a royal reception, these unluckiest of tourists were back at sea for a six-week voyage home, dodging German U-boats on the way. Nine of the party never got to play Test rugby. They returned home, playing en route one match against Bombay Gymkhana Club, in which all the 'new' players were used.
1939 Wallabies train at sea
Back in the UK, rugby was soon suspended, amid real early fears of bombing and invasion. Twickenham Stadium had been quickly requisitioned for official war use. In the event of a chemical attack on London the Stadium was to have special responsibilities as a decontamination centre. In the West Stand the Civil Defence Unit took over the dressing rooms and restaurants, elsewhere there were coal and allotments. No matches were played there for several years, while many pre-war players were to be killed or wounded in the bigger conflicts which loomed further afield.
Civil Defence Unit at Twickenham Stadium
However there was to be some rugby played in the UK during the war: in particular, by schools, some clubs, and more officially in the series of Red Cross, then Services, and finally 1945-6 Victory 'Internationals', uncapped by most countries. France, however, did award some full caps at the time, while almost 70 years later Wales were to
award some of its so-called 'President's Caps' for the 'Victory' games. What exactly they were supposed to mean, though, is perhaps best known to the Welsh Rugby Union. As the 'phoney war' - before France was invaded - dragged on (dubbed by the Germans the 'sitzkrieg' or sitting down war, as opposed to the 'blitzkrieg' or lightning war to come), the biggest game by far of late 1939 was staged near London.
-----------------------------------------------------------------------------------------
December 16th 1939 - THE RED CROSS MATCH: ENGLAND/WALES 17 SCOTLAND/IRELAND 3 (at Richmond Athletic Ground).
England/Wales XV 1939
England/Wales - Vivian G. J. Jenkins (W); E. Jim Unwin, Peter Cranmer (both E), E. Claude Davey (W), Prince Alexander S. Obolensky; Gus A. Walker (capt), Jack Ellis; Robin E. Prescott (all E), W. ('Bunner') Travers, W.E.N. ('Wendy') Davis (both W), Stanley R. Couchman (Old Cranleighans/GB), T. Fred Huskisson, Dudley T. Kemp, Derek E. Teden, John K.Watkins (all E). Tries: Teden, Obolensky, Unwin, Cranmer. Con/Pen: Jenkins. Scotland/Ireland - W.N. (Bill) Penman (S); Maurice J. Daly (I), W.C.W. ('Copey') Murdoch (S), Harry R. McKibbin, C. Vesey Boyle (both I); Rab B. Bruce-Lockhart, William R.C. Brydon (both S); John Megaw, Charles Teehan (both I), Ralph W.F. Sampson (S), R. Blair Mayne (I), George B. Horsburgh (S), Archie W.B. Buchanan (Army/London Scottish), H.J. Mike Sayers (I, capt), P. Laurie Duff (S). Try: Sampson. Referee: Cyril H.Gadney (Leicester).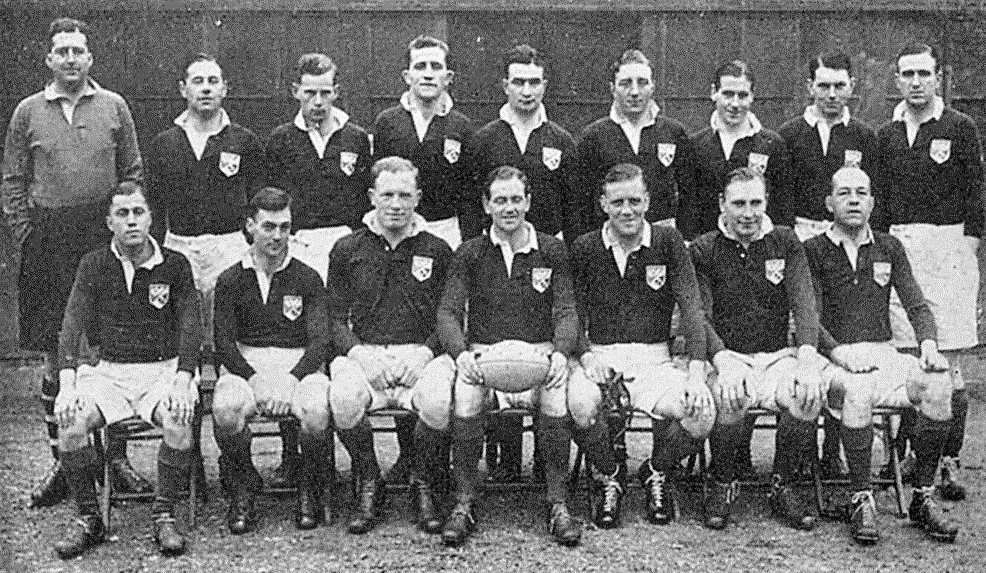 Scotland/Ireland XV 1939
Scotland centre *Duncan J. Macrae was forced to withdraw after selection and 'Copey' Murdoch came in. Only Stanley Couchman, a GB tourist to the Argentine, and Archibald W.B. Buchanan were uncapped. Ireland forward Mike Sayers, later a fatal casualty, brought the other 29 players together and the gate receipts went to the Red Cross. On a bitterly cold day the teams were introduced to General Sir Walter Kirke, Commander-in-Chief of the Home Forces. Richmond's highest crowd for years watched the game. Both Sayers and Viv Jenkins missed with penalty efforts, but when the latter's kick was fumbled it was Jack Ellis who gathered to send Derek Teden over for the first score. Jenkins missed the conversion but soon placed a penalty.
Duncan Macrae
Derek Teden
Harry McKibbin and Sayers failed with further penalties and at the interval England/Wales led by 6-0. Soon after the restart Prince Alex Obolensky scored a try that Jenkins converted. Scotland/Ireland replied with Ralph Sampson scoring a try from a forward rush and then both Jenkins and Bill Penman missed further penalty shots. It was England/Wales who finished strongest, as Gus Walker kicked ahead for Jim Unwin to score before the final try was added by Peter Cranmer in the follow-up to his own kick.Neither try was converted. Duncan Macrae was awarded a Military Cross fighting with the 51st Highland Division, but was captured and made a Prisoner of War in June 1940, then served as a Medical Officer at Stalag VIII-B, Lamsdorf, one of so many prison camps where makeshift rugby was played. He later became a doctor in Scotland and died in 2007, aged 92 having won 9 caps (1937-39) and being a GB tourist to South Africa in 1938. Obolensky was to die in that 1940 plane crash and Teden, Penman and Sayers were all killed in action. Walker lost an arm in the war and Brydon spent five years as a prisoner of war of the Germans.
-----------------------------------------------------------------------------------------
On Sept 11th, 14th and 24th respectively, the Scottish, English and Welsh Unions had cancelled all official fixtures due to the war., while Murrayfield and Blackheath closed their grounds. Some clubs, though, still hoped to continue with much-amended fixture lists. The latter included Harlequins, Wasps, Rosslyn Park, Guy's Hospital and King's College Hospital. By Sept 30th some rugby had begun and results included: Rosslyn Park 11 Harlequins 5 at Old Deer Park; Guy's Hospital 30 Catford Bridge 9; and Bridgend 18 RAF XV 3, though on Oct 4th Leicester decided not to play any games. Most of the rugby played was between school or senior sides in the London area, but matches also began with and between Services sides. Rosslyn Park were prominent and energetic in organisation, encouragement and administration, though quite often the players selected withdrew at the last moment due to the emergency nature of the times. Other onfield items of note in late 1939 included the first of the series of 'downgraded' wartime Varsity matches: Dec 6 - Cambridge University 3 Oxford University 15 (at Grange Road, Cambridge). Cambridge - Try: E.J.H. Williams (wing). Oxford - Tries: Luyt, Davies, R.M. Osborne. Con: Phillips. DG: Luyt. Referee: Bernard C. Gadney (Leicester). Blues were not awarded, with Oxford playing in the Greyhounds' jerseys and Cambridge in those of the LX Club. For the first time since the 1870s, the match was played at the ground of one of the Universities. On June 22 the Welsh Rugby Union announced profits of £332 with assets placed at £49,116. Other assets went north, though, in August, W.T.H. 'Willie' Davies moving from Swansea to Bradford Northern. Lee Griffiths was his replacement at Swansea, partnering Haydn Tanner, the cousin of Davies. Rugby League and some soccer continued, though the touring New Zealand RL team returned home after two matches. Some Welsh clubs attempted to play games within their own area, while London Irish and London Welsh combined to play as the 'Shamleeks', for whom young Welsh fly half Glyn Davies and the lively Irish forward J.C. Daly turned out in, apparently, scarlet and emerald quartered jerseys. On November 13th it was announced that, as in the previous War, Rugby League players were to be allowed to play in Rugby Union games, even though, as was ever their wont, the SRU disagreed. Within their own ranks, League's two matches with the NZ tourists before they returned home were: Sept 2nd - St Helen's 3 NZ 19; Sept 9th - Dewsbury 10 NZ 22. There was major League action just before the festive season, though, when on Dec 23rd at the vast stadium at Odsal, Bradford, England went down 16-3 to Wales. The Red Cross had clearly decided not to reinvent the wheel - or programme cover - with that for the big Richmond clash very similar to (but twice the price of) the effort north of the border a fortnight earlier. That brought together East & West in Edinburgh (with SRU approval required, it goes without saying).
Match Programme - East v West, 2 December 1939, Edinburgh
The threat of dire days to come could rarely be ignored, though. As well as the mobilisation of military reservists, by early 1939 it is estimated that about half a million people also volunteered to join the ARP, the Territorial Army (TA) and the RAF Volunteer Reserve. But volunteers were not enough. By April 1939 all British men aged 20 and 21 who were fit and able were required to take six months' military training: there'd be a lot of rugby and other sportsmen there. Even so, when war broke out the British Army could muster only 897,000 men, compared to France's five million. The National Service Act made all able men between the ages of 18 and 41 liable for conscription; single men would be called to war before married men. Men aged 20 to 23 were registered in October 1939, with 40-year-olds eventually doing so in June 1941, and still older later in the war. Wilf Wooller, star centre for Cambridge, Cardiff and Wales at rugby and later Glamorgan cricket legend, was typical in joining his local anti-aircraft battery on the outbreak and mixing periods of boredom with high jinks and time off for good quality fundraising rugby before the 'real stuff' began. 'The Skipper' and in particular fellow Cardiff stalwart Les Spence (seated second left) were to experience seriously hard PoW times at Japanese hands before 1945.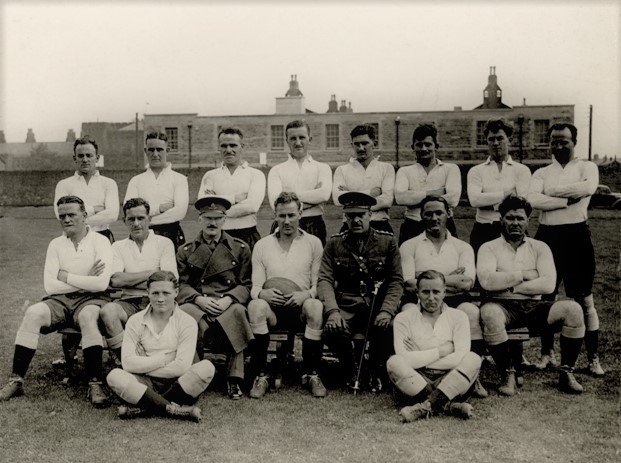 Wooller & Military XV, 1939, Maindy Barracks, Cardiff
By the end of 1939 more than 1.5 million men had been conscripted to join the British armed forces. Of those, just over 1.1 million went to the British Army and the rest were split between the Royal Navy and the RAF: quite a few were still to manage to play rugby for one or other of those services in the next five or six years, though for some these wartime games would prove - sadly prematurely - to be their their last.
The article above is taken from Howard Evans and Phil Atkinson's War Games: Rugby Union during the Second World War, newly published by St David's Press and the first book to pull together in detail much of the rugby played 1939-1946, including the hugely-successful NZEF 'Kiwis' postwar tour.