From The Vaults
02 July 2018
Tanaka and Clarke: The friends that took rugby from Cambridge to Japan
Rugby football arrived in Japan relatively early by worldwide standards, but it was not until the turn of the twentieth century that the sport would be played by Japanese nationals at home. Two key individuals are credited with introducing rugby to Japanese schools and universities - Ginnosuke Tanaka and Edward Bramwell Clarke.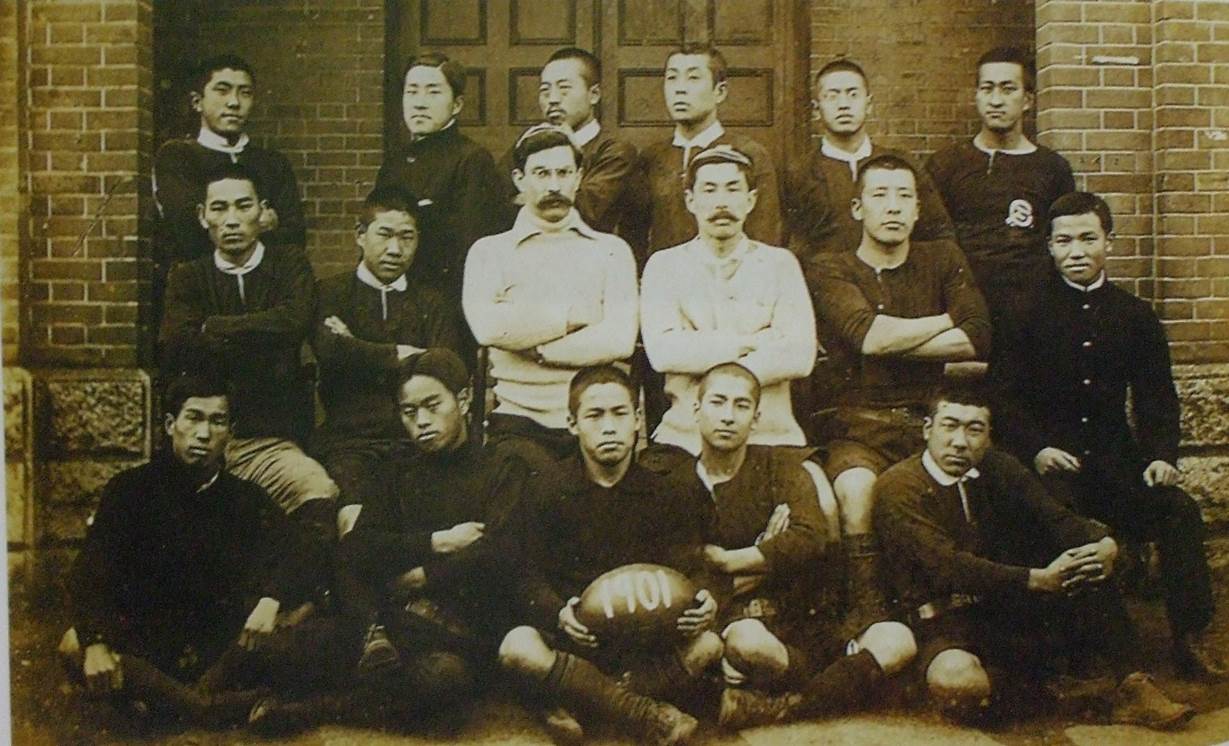 Clarke and Tanaka (pictured centre) with the 1901 Keio University rugby team.
Ginnosuke Tanaka, born in 1873, was one of several Japanese men to be educated overseas during the latter half of the nineteenth century. It was during his time at Leys School in Cambridge, England, Tanaka developed a passion for rugby. His 1892 school report stated that he was a "conscientious forward. At his best in the scrum."
Ginnosuke Tanaka
Tanaka met Japanese-born Englishman Edward Bramwell Clarke whilst studying at Cambridge University, where both men played rugby. Clarke was born in 1874 at Yokohama, and graduated in law and literature from Corpus Christi College, Cambridge, in 1896. Tanaka and Bramwell Clarke had both returned to Japan by 1899, taking teaching places at Keio University (Keiogijiku). The two men introduced their favourite English sport to the students at Keio. In a letter to the Secretary of the Keiogijiku Rugby Football Club in April 1931, Clarke explained:
''I introduced Rugby to the men of my then classes at Keiogijiku because they seemed to have nothing to occupy them out of doors in the after summer and winter days. Winter baseball had not yet come in and the young Fellows loitered around wasting the hours and the lovely autumn weather. I thought if I could get them interested in rugger their hours during their free afternoons would not be so long and wearisome. My Japanese was too rough and ready, my vocabulary far too scant to explain the fine points of the game, so I asked my friend Tanaka Ginnosuke to come to my help, which he did with great readiness and enthusiasm, and so the game was started.''
Edward Bramwell Clarke
Ten students joined their rugby club initially and by 1901 they were ready to play their first inter-club match. The Keio students met a group of expatriates at Yokohama on January 5th, with Clarke playing full back and Tanaka at half back. The Japan Gazette recorded the event:
''The Rugby match this afternoon between the Yokohama County Athletics Club and a fifteen from the Keiogijiku University, trained by Messrs. E. B. Clarke and Tanaka, attracted a large attendance of spectators. Candidly speaking, it was a good deal of a farce, as the score of 39 points to 5, in the foreigners' favour, very clearly indicates… To begin with, they were poorly equipped for the match, as they appeared on the ground wearing ordinary boots. The result was that they went slipping all over the place…''
Keio University lost the game that day, but this did not dampen their spirits; instead the team rapidly established a fixture with Kobe Regatta and Athletic Club. Rugby grew in popularity among students and spread to various other universities and schools in Japan. A second rugby club was formed in Kyoto in 1910, closely followed by Doshisha University who began playing rugby in 1911. Waseda University would follow suit by setting up their rugby football club in 1918. That same year, the first national high school championship tournament took place and the first inter-university game soon followed in 1923, contested by Doshisha and Waseda Universities. By the early 1920s Japan had more than 1,500 clubs and 60,000 registered players. The son of then Crown Prince Hirohito, Prince Chichubu, became a fan after watching Keio University play Waseda and went on to become the patron of the Japan Rugby Football Union (JRFU) upon its formation in 1926. Another key figure that would join the JRFU early on was Ginnosuke Tanaka, who was inaugurated as the first president of the JRFU. For his contribution to the sport, Tanaka is remembered as the 'father of Japanese rugby'.
---
Visit our website and follow us on Facebook, Twitter and Instagram.
Book Twickenham Stadium Tour and World Rugby Museum tickets.