From The Vaults
02 March 2015
LAST CHANCE TO SEE: Old Streetonians: life, rugby and art in Shoreditch
For the purposes of this exhibition a section of the World Rugby Museum has been converted into a Shoreditch loft. The exhibition 'Old Streetonians: life, rugby and art in Shoreditch' records the unlikely tale of how a group of artists, based in Shoreditch in the early 1990s, founded a spoof rugby club that went on to prosper and progress up the league pyramid. Today, still based in Shoreditch and still including several artists, the side fields three teams from the purpose built, RFU funded Hackney Marshes Centre.
The exhibition will display a selection of works by club members past and present, many of whom who have gone on to successful careers as artists, architects and tailors amongst other professions.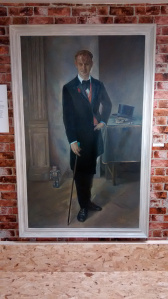 The exhibition tells the story of how the club came into existence when a toss-of-the-coin in the Bricklayers Arms determined that rugby, not amateur-dramatics, would be the preferred winter activity. It explains how the club arrived at their misleading name of Old Streetonians, being named after a Shoreditch roundabout rather than a public school. The exhibition describes Shoreditch in the early 1990s, immediately before it achieved global recognition within the art world. It highlights key moments in the rise of the club and offers advice on how others might emulate their feats by forming their own rugby clubs.
It runs from October 2014 to April 2015. The World Rugby Museum is open from Tuesdays - Sundays (check before travel) and costs £8 for Adults and £6 for Concessions. Please call 020 8892 8877 to enquire.
---