From The Vaults
14 May 2018
First Reserve - AH Walker
The museum has recently received as a donation two scrapbooks and a Lancashire jersey that belonged to Manchester forward AH Walker. After learning the game at Kingswood School, Walker progressed to Manchester University, with whom he toured France and Germany and won the Christie Shield and Inter-University Championship in 1925.
1924-5 Manchester University. AH Walker sat front-row on the right.
On completion of his studies he remained in Manchester and played in the front-row for Manchester Football Club. In 1929 he was selected for and represented Lancashire who defeated Durham 9-5 in Darlington. On that occasion Walker had initially been selected as a reserve but got his chance when incumbent Hooker Henry Toft had to withdraw through injury. The late 1920s and 1930s were an interesting period of development for the roles now associated with the tight-five. In the early part of the 1920s scrums were formed in which ever order players arrived and so the tight-five, and in particular the front three, were quite interchangeable. This began to change with the development of the specialist role of 'Hooker'. Toft and Walker represented two sides of the coin in this development. A strong, broad shouldered, forward similar to a modern-day Hooker, Walker, in his time, represented the old guard and revealed in an interview in 1932 that he personally did 'not believe in the specialist hooker' and that 'at school, we had never heard of such a thing'. Toft, by comparison, was very much in the newly developing specialist role and sacrificed bulk in exchange for agility so that he might 'hook' the ball back to his own side more effectively.
Walker's style had some significant support. Yorkshire County Secretary RF Oakes went so far as to describe a Hooker as 'nothing more or less than a cheat'. The selectors however seemed to disagree and more often than not it was Toft's who was selected for Lancashire while Walker was named first reserve. The effectiveness of Toft's hooking however was not in doubt. In 1931 in a game against Old Edwardians Toft replaced Walker after the latter suffered an in injury in the early part of the game. A local newspaper reported that Toft gained possession on thirteen consecutive occasions during the game, which Manchester won by 17 points to 6. Walker seems not to have minded however and celebrated Toft's achievements alongside his own in the pages of his scrapbook. Intriguingly included in the pages is a short newspaper report that cryptically claims a "big offer" has been made by one of the local Rugby League clubs to another Rugby Union club "hooker". With his strong shoulders and athletic game it might well have been that Walker would have been more suited to the professional code, though the article does not name its subject.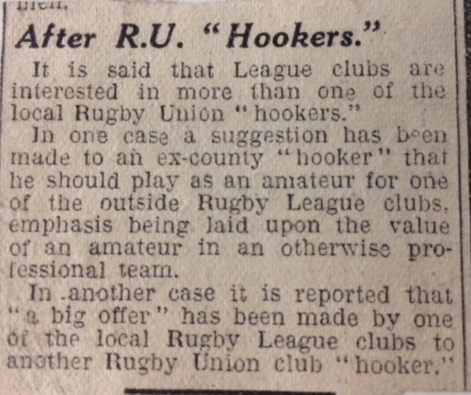 Regardless of whether the article was about Walker or not he did not succumb to temptation. He played out his career with Manchester, the Civil Service and Lancashire. Toft the innovator however went on to full international honours, earning 10 caps, including four as captain, between 1936 and 1939.
The World Rugby Museum relies on donations from the public. Every player has a story to tell and scrapbooks such as these help us to interpret them. If you have some memorabilia that deserves to be preserved please contact us by email - [email protected]
---
Follow the World Rugby Museum on Facebook, Twitter and Instagram.